A Zion Market Research study published in September 2020, reports that the U.S. cannabis market, valued at $13.48 billion in 2019, is expected to expand at a compound annual growth rate of 30.7 percent to generate revenue of around $87.79 billion by the end of 2026. Investors want in on that action.

However, the cannabis industry is a minefield for investors. Competition is stiff, the black market thrives, laws vary considerably across locations, and thanks to government regulations in areas where cannabis is legal, high costs pose a huge challenge to turning a profit. Investing in Cannabis For Dummies serves as a personal guide to successfully navigating this minefield.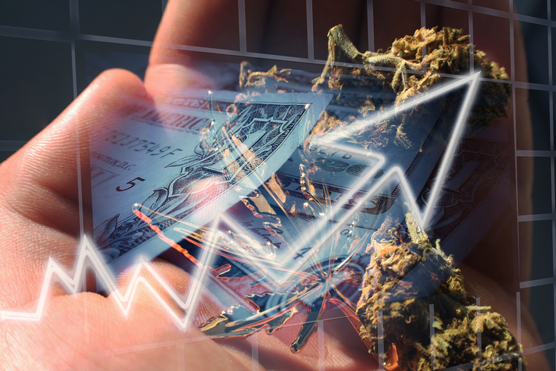 © ShutterstockProfessional / Shutterstock.com
The Pros and Cons of Investing in Cannabis
I don't encourage or discourage people from investing in cannabis. I just want people who choose to invest in cannabis to do so with their eyes wide open, knowing the potential risks and rewards. Here, I highlight five reasons to invest in cannabis and five reasons to think twice about doing so.
Pros
Profit is the biggie. Cannabis is a fast-growing industry with the potential for big profits.
Getting in at or near the bottom of a new and exciting industry is always a thrill.
Being able to tell people you're participating in the "Green Rush" is definitely a perk.
Investing in something you're passionate about — assuming you have a passion for marijuana — is a bonus.
By investing in medical marijuana, you're helping people who benefit from its use as medication, and you're helping to fund future research.
Cons
Cannabis attracts money, and money attracts thieves. Cannabis investment scams are rampant.
Cannabis stocks can quickly become overvalued by investors who are overly eager and optimistic.
Cannabis businesses struggle to be profitable due to numerous factors, including the high costs of complying with federal, state, and local marijuana laws; increased security costs; increased bank fees; and the cost of specialized software.
Cannabis stocks have an increased susceptibility to dilution — as companies issue more shares to raise capital, the value of each share drops.
Cannabis still has a healthy black market, even in states where it's legal. Black-market growers and dealers don't pay taxes, so they can afford to sell product for less. If state and local authorities don't crack down on illegal production and sales, legal businesses have a tough time competing.
6 Ways to Invest in Cannabis
When most people think about investing in cannabis, they imagine buying stock in cannabis companies, but that's only one of many ways to invest in this growing industry. The following list describes six ways to invest in cannabis:
Start your own cannabis business.
Depending on your knowledge and interest, you may want to grow (cultivate), manufacture consumer products, run your own dispensary or delivery service, or build your own brand.
Buy, sell, and lease cannabis real estate.
Cannabis businesses need land that's suitable (and zoned) for growing, manufacturing, and selling cannabis.
Buy and sell stock in publicly traded cannabis companies.
Stocks provide you with a share of the company without your having to get your hands dirty or deal with the complex legal and regulatory issues (and other matters) of starting and running your own cannabis business.
Buy and sell shares of cannabis-focused exchange traded funds (ETFs).
ETFs own shares in a variety of companies, so when you buy a share of the ETF, you're spreading your investment across numerous companies. However, you're placing your trust in the ETF manager to choose good companies to invest in.
Invest in privately owned companies.
If you're a high-net-worth individual, you can help finance a cannabis business as an angel investor, venture capitalist, mezzanine investor, or through a private equity firm.
Invest in ancillary businesses.
Ancillary businesses are those that support the cannabis industry without touching the plant. They include garden supply companies, accessory manufacturers, software companies, payment processing firms, building contractors, and security companies that specialize or focus a part of their business on serving the cannabis industry.
Before investing in any cannabis business, perform your due diligence. Cannabis investment schemes are rampant and can be very sophisticated.
3 Great Online Resources for Finding Publicly Traded Cannabis Stocks
Every online broker worth its salt features a stock screener, but you can access better tools outside the broker's website for finding and screening publicly traded cannabis stocks. Here are my top three:
Marijuana Index is the place to go to find out about stocks in publicly traded companies in the United States and Canada. You can view the Index by North America, United States, or Canada, or by sector. Click Marijuana Stock Universe to access a screener that enables you to filter stocks by price, volume, market capitalization, exchange, and sector.
Daily Marijuana Observer's Databases features several databases for Cannabis Stocks, Exchange Traded Funds (ETFs), Cannabis Funds, Cannabis Cryptocurrencies, and Cannabis Brands. If you select Cannabis Stocks, you're given the option to browse a list of all cannabis stocks or browse stocks by country, exchange, or sector.
New Cannabis Ventures Global Cannabis Stock Index is another great place to find out about stocks in publicly traded medical and legal marijuana companies. You have the option to view the Global Cannabis Stock Index, The American Cannabis Operator Index, or the Canadian Cannabis Licensed Producers (LP) Index.
New Cannabis Ventures also has a smartphone app.
Cannabis Startup Investor Pre-Flight Checklist
Some of the best investment opportunities in the cannabis industry are with cannabis startups and other small players. However, these opportunities also carry the greatest risks. Before investing in a cannabis company that's not listed in one of the major indexes, such as The Marijuana Index (marijuanaindex.com), perform your due diligence:
Hire a reputable private investigator to conduct a background check of all owners, managers, and operators, and make sure everyone on the team has experience in the industry.
Conduct an online search for the business and its owners, managers, and operators. Conduct a general Google search and check out some cannabis industry–specific news sites, such as mjbizdailycom and www.cannabisbusinesstimes.com, to find out more about the people who are starting and running the business.
Evaluate the company's financial health, to ensure that it has the capital to operate until it begins to turn a profit. By at least one estimate, the failure rate of cannabis startups exceeds 97 percent.
Verify that the business is licensed to operate in the planned locations.
Evaluate the business strategy to ensure that the owners and managers have a solid plan in place to turn a profit.
Evaluate the company's competitive position relative to other companies in its space.
Evaluate the company's existing warrants and convertible securities — essentially contracts with existing investors regarding their current or future equity ownership in the company. You want to know how ownership in the company by current investors could impact your equity ownership in the company and the share price.
Check with other investors and reputable analysts with expertise in the cannabis industry to find out whether they know anything about the company or its owners/managers/operators.
Talk to the company's founder or CEO and other leaders in the business to hear directly from them about their vision and plan for success.
Get a second opinion from your lawyer or financial advisor. A professional may have better tools and resources than you to determine whether a business is legitimate.
10 Sources for Cannabis Industry News
The more you know about the cannabis industry, the better you'll be at spotting cannabis investment opportunities and protecting yourself against scams. Here are ten resources that can help you get up to speed on the cannabis industry and keep you informed of the latest news and developments:
About This Article
This article can be found in the category: