Managing your trades is a constant job for a good trader. You can use technical clues to help you make optimal trading decisions. After a stock has drifted sideways to down, a few key technical events happen:
The stock touches an important moving average. Some of those are the 10-week moving average, 20-week moving average, and 40-week moving average. Expect bounces off some support.
The stock goes low enough to get oversold readings on technical indicators, such as the relative strength index or RSI (30 or 40) or stochastics below 20. These are typical buy areas.
Trend lines are broken. Look for ways to hold strong stocks that may be consolidating. Selling some on a break can lock in profits.
Price breaks below where the price has bounced up from before. After multiple attempts to hold above the previous lows, a lower low can be a clue that the support is fading. Rising stocks don't make lower lows. One low might be an exception for a few weeks, but uptrends have a series of rising lows.
The stock starts to make new 52-week lows.
The chart below shows Amazon (AMZN), which is one of the world's juggernaut companies. By dominating one particular space so well, Amazon has been crushing everyone in its path. But Amazon investors have ridden some massive swings.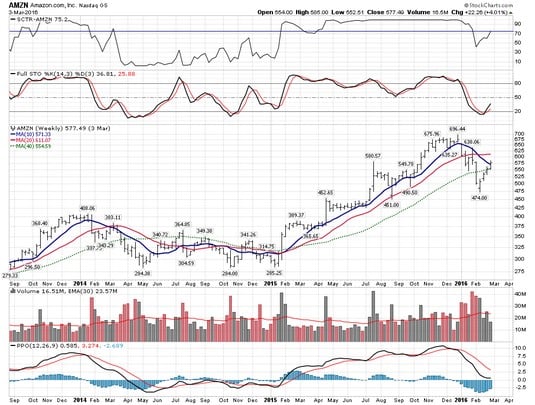 Chart courtesy of StockCharts.com
Support for Amazon.
For example, in 2014 the Federal Reserve had lots of stimulus going on to help the economy heal from the financial crisis. The market was roaring higher until the oil business struggled in late 2014. But Amazon was a dog all year, after years of running higher. The chart above shows a few big things:
Moving averages: As an investor, what will you hold through? Working from the left to the right, Amazon was finding support at the 10-week moving average. As 2014 started, Amazon had a big down week that wiped out about ten weeks of price gains. The stock dropped into May, losing $125/share before finding support at $285, which was the January high of 2013.
Indicators bounce from oversold levels: The stock continued to wobble and make lower highs all year. The support level of $284 held, but investors holding the stock throughout the year were staring at losses for the year of 30 percent. Was Amazon's long-term top finally here?
Trend lines: Use previous run-ups in the stock price to find a similar slope for trend lines. A short, sudden burst is not a good trend line slope, but one with a reasonable angle (45 degrees or so) is a better place to watch for support.
Price support and new 52-week lows: All the moving averages collapsed together in 2014, and Amazon struggled. Heading into 2015, Amazon risked gapping to new 52-week lows. Great stocks make higher 52-week highs, not lower 52-week lows. On the January 2015 earnings call, the stock roared! It broke above all three moving averages; the moving averages were in a bullish alignment, with the short-, then medium-, and then long-term averages above each other; and Amazon more than doubled in price in one year. Price support held!
About This Article
This article is from the book:
This article can be found in the category: