Four pieces of data, gathered through the course of a security's trading day, are used to create a candlestick chart: opening price, closing price, high, and low. The candle in a chart is white when the close for a day is higher than the open, and black when the close is lower than the open. The wicks, lines sticking out of either end of the candlestick, represent the range between the day's high and low prices. The wick on top shows the day's high, the wick on the bottom shows the day's low.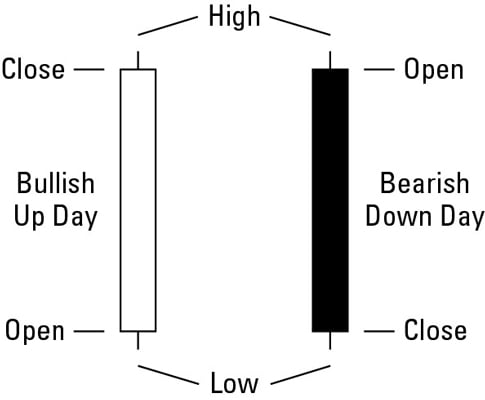 Additional information is sometimes displayed with candlestick charts. Don't be afraid to use it! The following types of information are commonly included on candlestick charts and can be very useful in your analysis:
Volume: The total number of shares or contracts trading during a time period.

Open interest: The total number of open contracts on a futures product.

Moving averages: Lines that represent the average closing price for a time period and a few periods in the past.

Technical indicators: Statistics that can be displayed in a variety of ways on a chart.

Fundamental information: Data that includes dividend dates, days of share splits, or even insider buying and selling!
About This Article
This article is from the book:
This article can be found in the category: