When choosing a financial advisor, it helps to understand how your advisor gets paid because those who live off commissions may have different goals than advisors who work on salary. All people in the financial services industry, which include financial planners and advisors, get paid in one of the following four ways: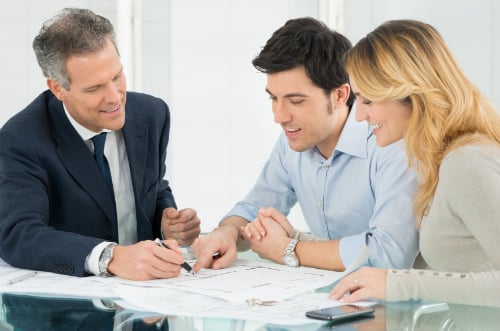 Credit: ©iStockphoto.com/Ridofranz
Commission only: Some advisors receive only commissions for selling financial services products, such as investments, real estate, insurance products, or loans. Examples include advisors affiliated with companies like State Farm, American Family, and Edward Jones.

Commission and fees: A commonly misunderstood term used to describe this compensation method is fee-based. Examples include registered representatives of companies like Ameriprise, AIG Financial Advisors, Wachovia, and UBS. Commission and fee advisors may receive a fee for developing a financial plan for you and then receive commissions when they sell you insurance and investment products recommended in your financial plan.

Salary plus bonuses: Many discount brokerage firms and banks compensate their employees with a base salary plus incentive pay for bringing new client accounts into the institution. They may receive substantially higher bonuses by recommending or selling certain products and services over other options.

Fee-only: Fee-only financial advisors provide advice or ongoing management and aren't registered representatives of any financial services company. They're typically self-employed Registered Investment Advisors (RIA) or employees of this type of firm. One benefit of hiring fee-only financial advisors is that they have no financial stake in the recommendations they give you. They recommend only what they believe is in your best interest.
The most popular form of compensation for personal financial advisors and planners is currently a combination of commissions and fees. These financial advisors may be affiliated with a large brokerage firm or insurance company, or they may be registered representatives with an independent broker-dealer. Often, the majority of their compensation comes from the sale of the products they recommend. However, they may also provide financial planning services and advice for a separate hourly fee, flat fee, or retainer fee.
Fee-only financial advisors charge in three ways:
Hourly fee: You pay for all the time that the financial advisor works on your case or spends with you. Multiply the time spent by the advisor's hourly charge, and that's how much your fee is. Always find out the expected cost and the maximum cost before you begin working with an advisor who charges by the hour. Hourly-based pricing is best for:

People who need specific advice about one or a few financial topics.

Do-it-yourselfers who just want a professional's opinion.

People who want to do as much as possible to save money but want expert analysis and direction.

Flat fee: Some financial advisors offer flat fees for a package of services. Flat-fee pricing is best for people who need specific advice or services and are willing to take the gamble that the flat-fee arrangement will cost no more than it would have if they paid by the hour.

Retainer fee: A retainer fee is often calculated based on a percentage of some sort, such as 1 percent of the assets the advisor manages for you, or some percentage of your net worth or income, or mixture of the two. Retainer fees are also computed by estimating the amount of time required to provide the services promised based on the complexity of the case and the skills required of the advisor, for the time covered under agreement to retain the advisor. A retainer fee is best for people who need, want, or can afford to transfer the responsibility of managing their personal financial affairs to a financial advisor.
About This Article
This article can be found in the category: