Even with an aggressive maintenance and repair program, landlords know that things break and wear out. To maintain resident satisfaction, you need a system that enables residents to submit maintenance requests and then respond to those requests effectively and in a timely manner.
Drafting a resident's maintenance request form
Making sure that your residents have plenty of opportunities to let you know about any maintenance and repair needs they discover during their tenancy is good business. Whenever possible, when you have contact with your residents, either orally or in writing, check to see if they have any repair requests.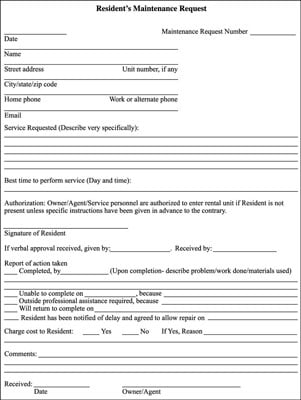 Credit: Form courtesy of Robert S. Griswold
Make sure your Maintenance Request Form contains the following information:
Date the maintenance request is being submitted

Resident's name, address, and unit number

Home, work, and/or cell phone number (you may also want to include a space for an email address)

A description of the service requested

The most convenient time for the resident to have the service performed

Authorization to enter the premises if nobody's home (have the resident sign if possible, as some states require permission except in an emergency)

Name of the person on your staff who received the request

Indication that the work has been completed and by whom or that the work hasn't been completed, a reason why, whether professional assistance is required and why, and a date when the service will be completed

Indication of whether the cost for the repair is to be charged to the resident

The reason for the charge and the amount

Any additional comments

Place for you or the staff member who received the request to date and sign it
If you have a website, consider creating a maintenance request form that residents can complete and submit online for their convenience. Email is also an excellent way to receive and respond to your residents. Be sure to keep hard copies in the tenant's files as evidence to support you in case there is ever a claim that you failed to properly maintain the premises or respond in a timely manner.
Responding to maintenance requests
In the best of all possible worlds, landlords would respond immediately to maintenance requests, but such quick response isn't always realistic. Respond to urgent matters immediately and to non-urgent matters within 48 business hours. If you can't perform the repair within 48 hours, call the resident to let them know when he can expect the repair to be completed and the reason for the delay.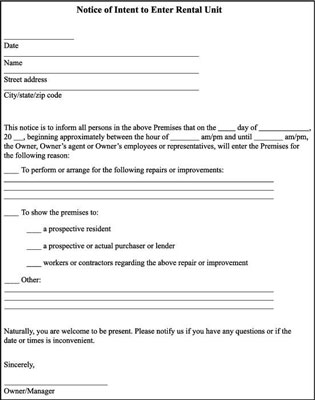 Credit: Form courtesy of Robert S. Griswold
Using maintenance requests to perfect your system
Knowledge is power. Consider creating a database to log all maintenance requests, and then use the database to produce reports that shed light on areas that could use improvement. For each record in the database, you may want to include the following information:
Date maintenance request received

Date of service

Resident name

Resident address

Resident apartment number

Room where repair was needed

Type of repair (plumbing, HVAC, smoke detector, and so on)

Repair performed

Repair cost

Name of contractor or staff member who performed the repair

Replacement fixtures, parts, or appliances

Warranty expiration date for any new parts, fixtures, or appliances
A database gives you a wealth of information that you can easily search and use to improve your maintenance and repair system, defend against any claims of neglect, and even save costs. Here are examples of a few specific ways to use such a database to your benefit:
Identify products, such as refrigerators or electric ranges that are prone to failure

Quickly determine whether a part, fixture, or appliance is still under warranty

Check to see whether your response time (the period of time between receiving a request and providing the requested service) is improving or getting worse

Determine whether your repair costs are rising or falling

See which contractors are best based on cost and how long comparable repairs last (whether contractors need to be called back)
About This Article
This article is from the book:
This article can be found in the category: