Your task is to come up with at least 50 goals that you want to accomplish within the next 10 years. As you brainstorm your list of life goals, keep a few points in mind to make your goal-setting effective:
Make sure your goals line up with your wants. Don't evaluate goals based on what you think you need, deserve, or can realistically achieve. Focus on what you want. With your goal set, don't allow your mind out of the want and desire zone. Frequently, we can slip into the "how" zone. How am I going to achieve it? "Wow, that seems too far out. How can I do that?" At this stage, it's only the what you want that's important, so don't allow your mind to wander. Your success is determined by what you want and the passion of why you want it.
Think big. "Go big or go home." Many shy away from setting big goals for a range of reasons, from fear of disappointment to concern that they may not have the drive to pursue them. While in the future you might cross the goal off as unimportant, in this early stage of goal setting, focus on what and the big whats. There really are no unrealistic goals — ever. The timeline to achievement might be longer than you expected, but if your desire, passion, persistence, and determination are high, there is never an unrealistic goal.
If you approach your dreams conservatively — going after what you think is reasonable or realistic — your odds of getting beyond that are slim to none. But if you let your imagination go and pursue the big dream, the odds of reaching that level of joy and fulfillment are in your favor. Big goals and big dreams cause you to stretch, strain, and go for what you really want in life. They connect with the best use of your time and energy. They draw you to remove the things in your life that don't serve you well.
Pick a time somewhere in the future and work backward from there. For any goal that stretches further than ten years, break it down into smaller goals with shorter timeframes to increase your focus, intensity, and commitment.
Set measurable goals. When you establish a measurable, quantifiable goal, you know you can't fudge on whether you achieved it or not. You either hit the target or you don't. You also know where you stand at any given time. Goal measurement naturally falls into two categories:

Number-based goals: Measuring your progress toward a goal is pretty easy when the goal is number based. You know when you've acquired a million dollars or lost 30 pounds, for example. The bank statement or scale are pretty simple to read. As you craft financial and other goals that are associated with numbers, be specific. Do you want to earn a certain annual salary? To put away a certain amount of money each year? To run a certain number of miles by September?
Non-number-based goals: To measure a non-number-based goal, focus on how you'll know when you've accomplished it. For example, will some organization's seal of approval establish you as a world-renowned archeologist? Will being elected president of the chamber of commerce constitute being a business leader in the community? Will having your children expressing greater thanks for your efforts as a parent equate to being a better dad or mom?
When you take the time to write down your goals, you clarify them and sharpen your vision for attaining them. You are telling your brain that this isn't a dream to be ignored as a hope-to, wish-to, or would-like-to. It's really something for which you're willing to invest time, effort, energy, and emotion.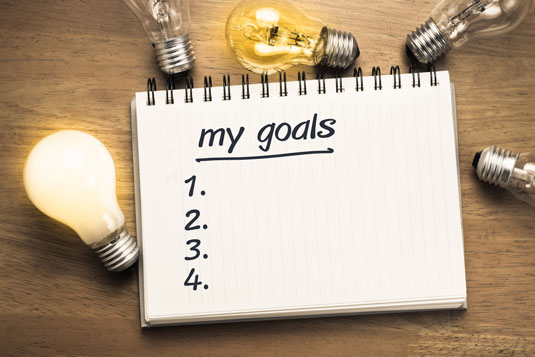 ©By patpitchaya
People who don't clarify and write out their goals invest more time and accomplish less.
As you identify and record 50 goals that you'd like to achieve in the next 10 years, contemplate the following five core questions to guide your goal setting.
What do you want to have?
The question of what you want to have focuses on material acquisitions. What possessions do you yearn for? A swimming pool? A sailboat? Do you fantasize about owning a sports car? Do you dream of a formal rose garden landscaped into your backyard? Someone to cook and clean for you? Your own private jet? Winter vacations in the Caribbean? If your home environment is a priority, imagine the place you want to live. An expansive ranch overlooking the Pacific Ocean? A Fifth Avenue penthouse? An off-the-grid abode that runs on solar and wind power? A villa in Tuscany?

Although possessions are important to consider, they're typically a means to an end: They enable you to create the lifestyle that you want to have. We all work to fund a specific lifestyle that we aspire to or currently have now.
What do you want to see?
When you ask yourself what you want to see, think experiential acquisition. Travel is likely to be a key focus. I'm certain you can easily come up with at least ten places you want to see. Have some world wonders fascinated you? The Pyramids of Egypt? The Great Wall of China? I travel internationally a few times a year on business, and it only fuels my desire to see more parts of the world and expand my awareness of how other people live.

I've found that exposure to different cultures and places in the world has a secondary benefit. Through world exposure, we can develop our gratitude and patriotism. It allows us to recognize how fortunate we are to live where we live. How blessed we are to have the lifestyle we have today. In the United States, even if you are on one of the lower rungs of wealth and earnings, you are rich compared to others in the world.
What do you want to do?
Most likely, many of your goals are connected with the question of what you want to do at some point in your life. Whereas the possessions that you want to acquire help create your lifestyle, the action-oriented question you consider here focuses more on bigger events and feats outside the daily realm. Because this category is vast, I have my clients consider three main aspects of this question:
Activities: You may want to include some once-in-a-lifetime experiences, such as snorkeling with sea turtles or hiking Mt. Kilimanjaro. What about a goal of regular exercise four times per week? Or maybe you want to see Lady Gaga in concert.
Skills: For example, have you always wanted to speak Spanish or Mandarin Chinese? Do you wish you could play the piano or electric guitar? Have you put off a new experience — snow-skiing, surfing, fly fishing — because you thought it was too late to learn? Whether these skills can enhance your career or financial state or are simply actions that bring personal pleasure, cast a wide net and list the ones that intrigue you most.
Career: How do you want to seek fulfillment through your career? Be honest with yourself and sort out how you'd like to measure that success. Do you yearn to be recognized as the top authority in your field? To win an international award? To write an influential book?
What do you want to give?
Andrew Carnegie, the great steel entrepreneur, met his goal to amass a fortune in the first half of his life. His goal for the second half was to give it all away. Many of the public libraries in the United States, Canada, and the United Kingdom exist today because of his philanthropy.

An important way to balance all the want, see, and do items on your Fabulous 50 list is to include give goals as well. What are you willing or interested in giving back? How do you want to share your good fortune with others? Which causes are near and dear to you?

I personally have developed more philanthropy goals as I have aged. Perhaps that's due to a higher awareness of the many blessings in my life. Or maybe it's being more aware of the needs others have around me, or it could be due to having achieved more. My belief is this greater awareness is normal for a successful person. If you aren't feeling very philanthropic, that doesn't make you a bad person. It just means there are other goal categories that are more important to you in achieving first. A giving focus, as well as giving goals, can broaden your perspective and well-being.
Who do you want to become?
To a degree, what you want to have, see, do, and give determine the person you want to become. But you should still envision and write down how you see yourself developing while you achieve these goals. The real value of goals isn't what you achieve; it's in the accumulation of knowledge, skills, discipline, and experience you gain through learning, changing, improving, and investing yourself as you work toward your goals. Often, those newly discovered or carefully developed traits are the only lasting acquisitions that stand the test of time.

Don't get me wrong. I'm not suggesting that you become someone other than who you are; rather, I'm encouraging you to earnestly and honestly evaluate the characteristics and disciplines best suited for your ambitions. To identify the areas you should focus on, take a look at all the goals you've written down so far. (If you haven't yet read the preceding sections, complete them before moving on here.) Then ask yourself the following questions when considering your goals as a whole:
What personal characteristics do you need to change or improve? Do you need assertiveness training to deal more effectively with your boss or coworkers? Do you need to work on interpersonal skills? Does your anger get in the way of your success because you get frustrated so easily?
What disciplines do you need to work harder at practicing consistently? Are you able to delay gratification and do what you need to when it needs to be done? Are you able to save regular amounts from your current paycheck, or are you waiting to make more money before you start the savings process? What if that extra money never shows up?
If you're struggling to identify areas where you need to work on personal development, take a look at people who have achieved what you want; then evaluate your characteristics and disciplines as compared to theirs.
About This Article
This article is from the book:
This article can be found in the category: