Choosing your career can be daunting, not to mention the training for it, landing a good job, and succeeding in your career. That's darn hard and, okay, even overwhelming. This cheat sheet can make it easier.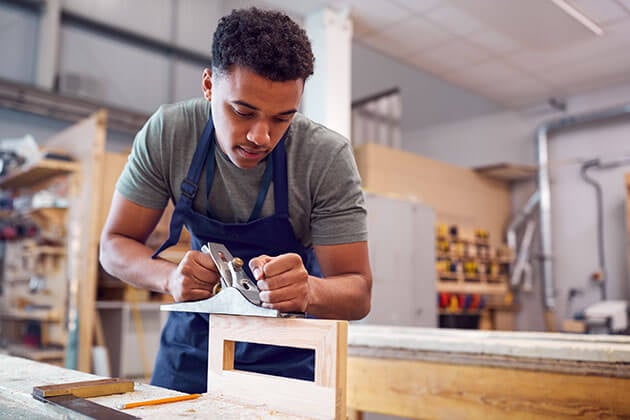 © Monkey Business Images / Shutterstock.com
A streamlined (but good) way to choose a career
In finding a career, many people take career "tests," struggle to get informational interviews, and even take career workshops. And despite all that, they end up far from sure they've made a wise choice of career. These steps can help you pick a career wisely:
What career type are you?
Which one or two of these are you: a word person, people person, Science-Technology-Engineering-Math (STEM) person, hands-on person, or entrepreneurial?
Scan the options.
Most people consider only a small fraction of worthy careers. A fast way to broaden your options is to scan books that profile lots of careers. Careers for Dummies provides a scoop on 340 good careers plus self-employment ideas. Also, the federal government publishes the Occupational Outlook Handbook, which offers more detailed (if drier) introductions to 250 careers.
Embrace Google Search.
Because Google Search is free, it's easy to underestimate its potency. But it's a remarkable curator of incomprehensibly large amounts of information. So do use Google Search to find articles and video introductions to careers that pique your interest. Particularly look for those that focus on a day in the life. These articles and videos are often more valid than an informational interview or three because each article or video may distill the experiences of multiple people in the field.
Use a pros-and-cons list with a twist.
Make pros-and-cons lists of two or three careers you're now considering. Pick the one that feels best. How are you feeling about that? Now imagine that you picked the other career. Feeling better or worse?
Now pick.
Even if your top-choice career doesn't feel perfect, it's usually wiser to start preparing for that career. Most people who end up happy in their career feel that way only after they've become competent at it and have tailored and accessorized it to fit their preferences and strengths. If you wait on the sidelines for the perfect career to hit you upside your head, you may be waiting a long time. It's wiser to pick a career sooner than later and then tweak as you go.
Your career training
Most people can and do train for their career the traditional way: a college bachelor's or graduate degree. But increasingly, people are getting some or even all of their training with a certificate program or individual courses ― in-person and online. These tips can help you get the most from them:
Curriculum matters. Curriculum is key to choosing a degree program that fits your career goal. For example, a psychology program could emphasize Freudian psychology or physiological psychology. A master's in business administration (MBA) program could focus on entrepreneurship or on international business. Choosing a degree program with a curriculum that matches your career goal can make all the difference
Your advisor matters. In a degree program or even a certificate program, your advisor can be your mentor, help you choose the right courses and culminating project, and give you job leads and a reference that can open career doors. For each program you're considering, check out the professors' bios, which usually are on the institution's website. Then, for one or two professors that are intriguing, phone or visit during office hours.
Choosing courses wisely. So many courses are available in-person and online. For example, prestigious universities offer courses that are open to anyone, often at low cost or even free. Thousands of such courses are aggregated on Coursera.org and edX.org. Additionally, many practical courses are offered through university extensions and on websites that aren't affiliated with universities, such as Udemy.com, LinkedIn Learning (formerly Lynda.com) and Udacity.com. It's easier than ever to vet such courses because syllabi and student reviews are usually posted.
Getting plucked: A new way to land a good job
Through the 1970s, most people landed their jobs by answering ads. Then, the dominant approach became networking: informational interviews, pitching friends, even cold-contacting target employers that were not advertising a job. But today, networking has a competitor: an online presence attractive enough that recruiters pluck you out and invite you to apply for jobs. Here are three keys to becoming pluckable:
A compelling LinkedIn profile. Your headline should contain keywords that recruiters search for, such as fundraising infrastructure specialist. Your employment history should also be rich with keywords. Make your photo head-and-shoulders, no shadows, yes smile. Have at least three stellar references. Everyone has good ones. See if you can get three great ones.
Impressive posts on groups. LinkedIn, Yahoo!, and perhaps your professional association probably have one or more forums on which you can post ideas, links to others' articles or your own, and where you can answer group members' questions. Recruiters often invite solid participants to apply to jobs.
Priming LinkedIn hirers. Many job seekers ask their LinkedIn connections for a job lead prematurely. That's like asking someone to marry you before you know each other. When you've identified a recruiter or hiring manager whom you'd like to consider you for a possible job or refer you to someone, read their LinkedIn updates, make an intelligent and/or kind comment or question, and then write a personalized request to connect with them on LinkedIn. If accepted, write a personalized InMail or email that explains why you'd appreciate the opportunity to chat about a possible job or for some counsel.
Becoming a beloved employee
Most people want to become an expert in their field and be appreciated for it, and for the human quality they bring to their work. Here are keys:
Make people feel good about themselves. Most people want to feel good about themselves and certainly not feel embarrassed or stupid. Of course, there are times when you'll disagree with colleagues and maybe need to offer constructive criticism, but recognize that you pay a price with each negative statement. Err on the side of positivity: Give earned praise, ask for advice, and, at the risk of sounding like your parent, say thank you.
Get technical but be a good explainer. Ever more jobs require technical chops, but the beloved employee is able to explain the technical so clearly that even tech-averse people understand it. A mindset for doing that is to pretend you're explaining it to a smart sixth-grader.
Take your work seriously but retain perspective. No one respects and few people like slide-bys ― people who do the least they can get away with. You needn't work 12 hours a day but you might aim to be modestly more productive than your workplace's average performer. Also, try to retain perspective — how important is that issue in the larger scheme of things? Hey, even Congress members discussing terrorism demonstrate concern but rarely fury.
About This Article
This article is from the book:
This article can be found in the category: