When you read through your business's balance sheet, like the balance sheet shown in this figure, you may notice that it doesn't have a "punch line" like the income statement does. You can't look at just one item on the balance sheet, murmur an appreciative "ah-ha," and rush home to watch the game. You have to read the whole thing (sigh) and make comparisons among the items.
The balance sheet presents the balances (amounts) of a company's assets, liabilities, and owners' equity at an instant in time.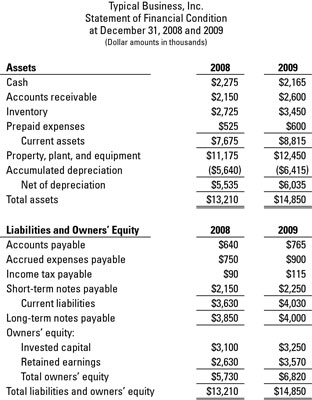 This example balance sheet discloses the original cost of the company's fixed assets and the accumulated depreciation recorded over the years since acquisition of the assets, which is standard practice.
Your accountant (if you have one) can prepare a balance sheet at any time that you want to know how things stand financially. For most businesses, balance sheets are prepared only at the end of each month, quarter, and year.
A balance sheet is always prepared at the close of business on the last day of the profit period. In other words, the balance sheet should be in sync with the income statement.
If a business doesn't release its annual financial report within a few weeks after the close of its fiscal year, you should be alarmed. The business's accounting system may not be functioning well, the business may be facing serious problems, it may be delaying the reporting of bad news, or it may have a serious unresolved dispute with its independent CPA auditor.
About This Article
This article can be found in the category: