The term personal flowers refers not only to the bride's bouquet and groom's boutonniere, but also to all the flowers worn or carried by attendants, family members, or others you wish to honor. Men often have preferences, some quite specific, for the boutonniere they sport on their wedding day. For brides, though, the flowers they carry as they walk towards married life are the ultimate — and very visible — accompaniment to their wedding dress.
Specify exactly where you want the florist to deliver your personal flowers and that you want them all labeled to avoid even the slightest chance that an usher may try to pin the flower girl's posy to his lapel.
Bride and attendants
At the beginning of the twentieth century, brides and bridesmaids carried such elaborate bouquets that the women practically needed a wheelbarrow to transport them down the aisle. Bouquets can be striking but never distracting; you want all eyes on the carrier, not on her bouquet. As an accessory, the bouquet should complement the dress as well as the size and shape of the wearer. Bridesmaids' bouquets need not be dwarf versions of the bride's, but can be mini works of art in themselves.
Antique lace, organza, or wired ribbon wrapped around the stems finish a bouquet beautifully, but with some cost. One of our favorite looks is having each bridesmaid carry a different vibrantly colored bouquet finished with matching ribbon streamers.
For years, people considered only one styleof bouquet to be appropriate for formal weddings: all white roses, stephanotis, and lily of the valley. This idea is no longer the case. At even extremely formal ceremonies, brides now carry a variety of flowers, colors, and shapes.
Flowers, however dazzling and pure, can cause you grief if they aren't prepared with meticulous care. Before handing them to attendants, ask someone to check them to make sure they're dry and that any stamens that might stain dresses have been removed.
Hold your bouquet by placing your elbows at your hipbones and grasping the stems or handle with both hands in front of your belly button. You should be able to do this while linking your arm with one person, unless you choose a pageant or presentation bouquet, which you must cradle in both arms. In other words, who is walking you down the aisle and how you walk together affects the kind of bouquet you can comfortably carry. See Figure 1 for some examples of bouquet types.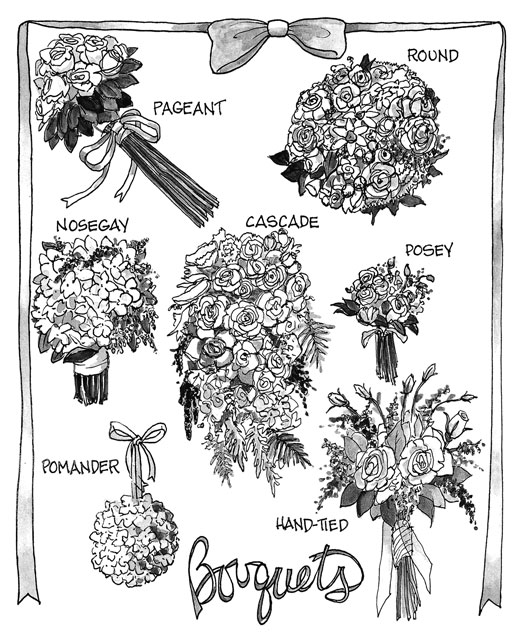 Biedermeier: Tightly composed concentric circles of individual colors, wired into a lace collar or other holder.
Cascade or shower: Classic, elaborate shape with ivy and long-stemmed flowers that are wired or pulled out to droop gracefully in a waterfall effect.
Composite: A flower constructed of hundreds of real petals wired together to look like one enormous flower.
Crescent: Composed of one full flower and a flowering stem, often orchids, wired together to form a slender handle that you can hold in one hand. Designed as either a full crescent, a half circle with a central flower and blossoms emanating from two sides, or as a semicrescent, which has only one trailing stem.
Nosegays: Round bouquets (16 or 18 inches in diameter) composed of flowers, greenery, and occasionally sprigs of herbs, all wired or tied together.
Posies: Smaller versions of nosegays. Ribbons and silk flowers are often integrated into them.
Presentation: The pageant bouquet — long-stemmed flowers cradled in your arms.
Tossing: A bouquet used for tossing so you can save the actual wedding bouquet for posterity. No need to duplicate the original; the tossing bouquet can be entirely different.
Tussy mussy: From the Victorian era, a posy in a small metal hand-held vase. Some have attached ring chains for easy carrying.
Instead of a bouquet, consider using fewer flowers in these innovative ways:
An heirloom prayer book accessorized with flowers
A single long-stemmed flower such as a calla lily, rose, or Casablanca lily
A wreath of flowers worn in the hair
A hat adorned with fresh flowers
A comb, barrette, or headband covered in lace, ribbon, and flowers
A border of flowers on your veil or hem of your dress
Mothers, stepmothers, fathers' girlfriends, and others
Say "corsage" and many women think "blue hair," not to mention pinholes in their fancy silk frock. Alternatives exist, including tussy mussies (ornate Victorian bouquet holders), flowers pinned to a handbag, or a floral bracelet, much like a minigarland — not to be confused with wrist corsages, which can be as dowdy as the pinned version. Some florists now use magnets to hold corsages in place on a dress. Ask your florist for this option if a pinned-on corsage is a must-have.
Grooms, ushers, stepfathers, mothers' boyfriends, and others
No longer the standard-issue white senior-prom carnation, the groom's boutonniere may be the same as one of the flowers in the bride's bouquet — as if plucked from there. The ones he chooses for his ushers and other gentlemen he wants to honor should reflect his personal style and be appropriate for their outfits. These flowers should neither brown around the edges nor wilt in the heat and should be hardy enough to withstand hours of hugs.
A few replacements for trite lapel pins:
Vibrant-colored roses set with a sprig of herbs
Berries backed by a galax leaf
Variegated ivy, fern, and pine
Also, having the stems wrapped with spiffy ribbon in an unexpected color or design can turn a mundane boutonniere into something dapper.
Men should wear boutonnieres on their left side and pin them on the underside of the lapel so that no part of the pin shows.
Order extra boutonnieres because they're relatively inexpensive and one or two may not survive ham-fisted attempts at pinning or may get crushed by well-wishers. Besides, it's good to have extras for any forgotten menfolk.
Little touches for little people
When dealing with flower children (or any children, for that matter), keep accessories in proportion to the child's size. You don't want your flower girl to look like an ungainly flowering plant moving down the aisle. Some simple floral alternatives to the traditional flower basket include
Circlet: A ribbon or twig band accented with blossoms and worn on girls' heads.
Garland: Birch vines covered with smilax and flowers and carried in tandem by two or three very young children. This arrangement looks adorable and also keeps them together.
Hoop: Made of vine strung with flowers and carried like a tambourine.
Pomander: AStyrofoam ball, covered in lace and tulle and trimmed with floral heads, which hangs on the wrist (see Figure 1).
Fresh petals can be slippery. If you wish to follow children strewing petals from baskets, show them how to sprinkle them, alternating sides of the path rather than straight down the danger zone.
The ring bearer's main accessory is the ring pillow, which may be sewn of luxurious fabrics such as satin, silk, velvet, or organza. These pillows are sometimes embroidered or trimmed with silk, natural flowers, or ornate tassels. The rings are tied on with attached ribbons. As special as the pillow is, the ring bearer may be more interested in wearing a boutonniere identical to that of the ushers. The ring pillow should never have the real rings on it. To protect the child's ego, attach fake rings and have the best man make a display of untying them. The real rings are, of course, safe with the best man and maid of honor.
About This Article
This article can be found in the category: