Going to funerals or memorial services can be uncomfortable for some people because of the emotions involved. Knowing what to do and say at funerals — and what to wear — can ease the discomfort.
When in doubt about going, do try to attend the service. Generally, the more difficult the situation, the more the family will appreciate your presence and your words of support. Your willingness to go out of your way to say a word or two of comfort will be very much appreciated.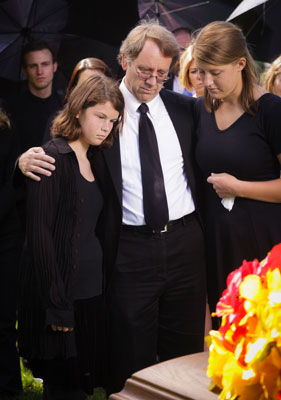 Credit: ©iStockphoto.com/LeggNet 2011
These services provide a sense of completion, a process for mourning, and comfort for the living. The outpouring of grief and support for the family enables them to eventually go on with their own lives.
Attending a funeral or memorial service
In many cultures, the first event that follows a death is a visitation, calling, or wake — a courtesy call at the funeral home prior to the funeral. The casket is present (open or closed), with flowers on display, and the family receives visitors who come to greet them and offer words of comfort and support.
A funeral or memorial service may be a very public event, attended by family, friends, colleagues, neighbors, and even acquaintances. A eulogy, prayers, or other funeral customs are observed. Because the immediate family may be overwhelmed, you need only to greet the mourners and briefly offer condolences. Most important for the family is the knowledge of your presence. (If the service is private, those attending will be notified personally, usually by telephone.)
Burials usually follow funerals. Some cultures consider it a sign of respect to deposit a ceremonial shovel of earth into the grave. This ceremony is initiated by a member of the family and followed by others. If you were close to the deceased, you may take your turn.
In almost all cultures, taking a meal in the company of close friends and family is a symbol of the continuation of life and a moment of separation from the intense details of the death, funeral, and burial. Recalling fond memories of the deceased may inspire smiles and even laughter at this gathering — this behavior is perfectly acceptable.
Expressing condolences at a funeral
Most people are at a loss for words when it comes to comforting someone who is grieving. If you don't know what to say, start with these thoughts:
You're so sorry to hear this sad news.

The deceased will be sorely missed by friends and colleagues.

How much you loved this person and how bereaved you feel.

You know how much the deceased loved and cared for the people who are left behind.

The grief you feel for the person who is left behind.

What a wonderful person the deceased was.
Recounting anecdotes, warm remembrances, and stories about the deceased is a kind thing to do. Remembering the person's accomplishments and all that person meant to you and did for you, and sharing that with the family, is very important and much appreciated.
The etiquette of consoling a dear one is the etiquette of genuine affection. Do what you can to comfort and assist the survivors, and be alert for an indication that your attentions have been gratefully received and are no longer necessary. Sometimes people need to work things out for themselves.
What to wear to a funeral
In Western society, black has long been the traditional color for mourning. However, wearing black isn't required any longer. Wearing a color other than black isn't a sign of disrespect, as long as the color isn't bright or wildly patterned. In many cultures, red is a color for festivals and would be inappropriate for a funeral. Generally, play it safe with any dark or subdued color. Hats may be worn by women, and at Orthodox Jewish services, yarmulkes are worn by the men. Dark suits and ties for men and dresses or suits for women are always appropriate.
Some religions impose strict standards of modesty on women. When in doubt, ask someone or do an Internet search. If you don't know whom to ask, make sure that the only skin you display at a funeral is from the neck up and the knees down.
About This Article
This article is from the book:
This article can be found in the category: