Enterprising stylists are always forging new paths in haircutting, whether they're experimenting with a texture technique or simply approaching the basics in a whole new way. A natural outgrowth of these creative approaches to shaping hair is a method called compact haircutting. This system is the exact opposite of traditional haircutting wisdom that touts small haircutting sections and precise angles, by using only one or two large sections of hair to create everything from a perfect frame around the face to a full head of layering.
The primary advantage of this bold method is its lightning fast results. Compact haircutting allows you to reduce the time you spend on a haircut from 30 minutes to about 15 minutes, making this method ideal for people on the go, fidgety children, and, of course, busy haircutters like yourself!
Compact haircutting isn't the answer to all your styling dreams. Traditional haircutting techniques can create layered styles with very precise shapes and crisp angles. If you're creating a beveled edge or a geometric shape, for example, then patiently cutting small sections of hair is the approach you want to take. In addition, traditional layering methods are the only way to go when you're working with shorter layers that aren't long enough to reach a single compact point. Despite these limitations, compact haircutting is a good choice for many popular haircuts — especially those with gently blended layers and mild graduation (a slight layering) on the ends of the hair.
Cutting to the chase
Although mastering this method of haircutting requires hands-on training and plenty of practice, you can still use some very basic compact-cutting techniques to your advantage.
Compact cutting is great for:
Cutting long layers. (Figure 1 gives an example of such a cut being done.)
Cutting a full set of bangs that go from corner to corner along the forehead.
Creating a variety of disconnected shapes — hairstyles that embody two or more separate haircuts — to create stylish twists to your work.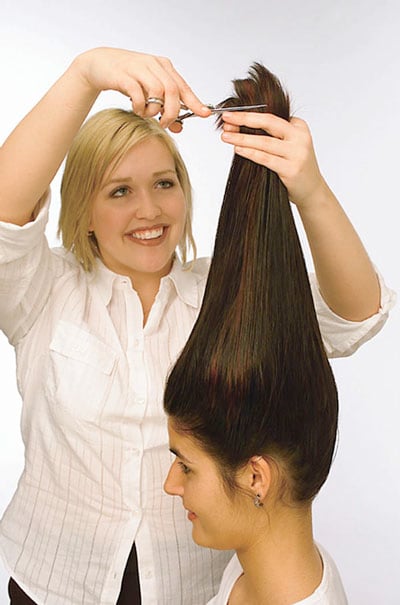 Photographer: Tom Carson, Hair stylist: Ladies & Gentleman Salon Mentor, Ohio
To get started, round up the following:
Wide-tooth or detangling comb
Willing subject who loves everything that you do to her hair
If you don't have one of these adoring fans handy, grab a mannequin head (a doll head with real hair that's sold in beauty stores), secure her to a swivel clamp (a special table clamp that's routinely sold with these mannequin heads), and warm up your cutting fingers. You're about to discover how exciting compact haircutting can be because you accomplish so much with just one or two passes of your scissors!
You must be extremely careful when doing compact haircutting because making one wrong snip can skew your entire hair design. To do the best job, follow these simple suggestions:
Concentrate on the symmetry of your hair sections to ensure they don't resemble the Leaning Tower of Pisa. If you're supposed to bring the hair to the center of the head, for instance, erring a little to the left or right causes one side to be longer than the other. This common mistake happens when you get so wrapped up in managing a large section of hair, you fail to notice that you're not dead center of the head.
Carefully plan the hair's position. Anytime you comb the hair to a point in front of the face, you're creating shorter layering around the front and longer layering in back. (Figure 1 shows this hair position.) If this look is what you want, great! If not, you need to re-position the hair.
Always cut the hair when it's damp — not sopping wet — so that it clings together and has a better chance of staying put while you trim the hair. Because keeping the hair in place is so crucial to this type of haircut, many stylists use a cutting lotion or a very light styling gel on the hair for added control.
Comb the hair carefully. Bringing a large section of hair to a single point may seem easy, but getting every tiny strand of hair going in the right direction can be challenging. Take your time and always be on the lookout for hidden layers that may be bunched up at the scalp or lying in the wrong direction.
Comb the hair into the proper cutting position by following these steps:
1. Use a detangling conditioner to ensure that the hair is slick and ready to be combed in any direction.
2. Detangle the hair with a wide-tooth comb or detangling comb, followed by a fine-tooth comb to ensure that no hidden snarls remain in the hair.
3. Comb the hair in the planned direction, using either a wide-tooth comb or a detangling comb.
4. Carefully comb through the hair with a fine-tooth comb to ensure that the hair is lying precisely in the right direction, and is flat and smooth from root to end.
Releasing a one-snip wonder: Bangs
Cutting full bangs can be as simple as taking a single snip at the bridge of the nose. This technique produces a bang that's slightly longer on the sides than in the middle (see Figure 2), making it an ideal frame for the forehead and eyes.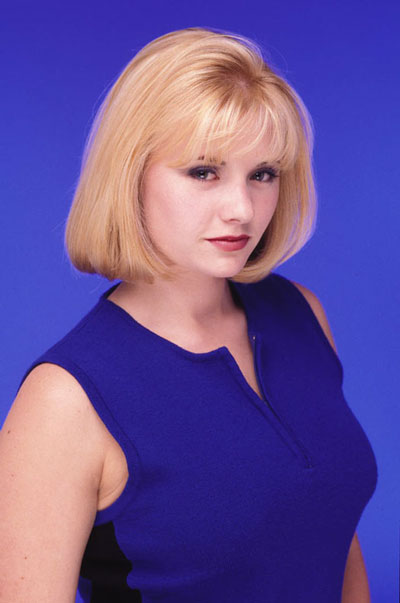 Photographer: Tom Carson, Hair stylist: Edie's Styling Center Clearwater, Florida
This compact cutting technique can do many things, but it's not meant for straight-across or blunt-cut bangs. For those, you need to stick to more traditional cutting methods. Compact bang cuts always have a measure of layering or graduation on the ends, depending on how you position the hair.
To do a compact bang trim, follow these steps:
1. Make the bang parting, going from corner to corner on the forehead as shown in Figure 3.
The bang parting can either be triangular or run parallel to the hairline.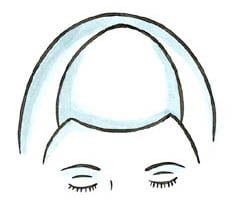 2. Using a fine-tooth cutting comb, comb the bangs to a point at the center of the bridge of the nose, making sure that the hair has even tension.
3. Re-comb the hair, using the wide-tooth side of your cutting comb.
This second combing relaxes any tension in the bangs, discouraging unwanted shrinkage after the hair is dried.
4. Cut the point of hair horizontal or straight across.
If you only want a slight amount of lift, comb the hair flush to the skin and secure it with the side of your hand or the back of your comb. If you want the ends to have more lift, place this point of hair between your second and third fingers — with your third finger flush to the forehead — and snip the ends of the hair.
Trimming the bangs lightly and re-trimming if necessary is a smart move since bangs have the uncanny ability of ending up much shorter than expected.
5. Comb the bangs into place to check your handiwork.
6. Dry with a blow-dryer to ensure that everything looks as expected.
If you need to re-wet and re-trim the hair, compact cutting makes this process quick and painless.
About This Article
This article is from the book:
This article can be found in the category: