If you're adopting a low-cholesterol lifestyle, you'll need to rethink your food-shopping habits: Know which fruits and vegetables are most beneficial, and look for high-fiber foods. Also, become intimate with cholesterol and saturated-fat content in common foods so that you'll automatically make the healthiest choices.

This Cheat Sheet helps you with all of these new ways of thinking. You also can find a handful of bonus recipes.
10 shopping tips for a low-cholesterol kitchen
Adopting a low-cholesterol diet means knowing how to shop for quality foods. Whether you prefer a supermarket, farmers' market, or gourmet store, here are some guidelines to set you on the low-cholesterol path:
Check the ingredient list on labels and avoid products that contain trans fats and added sugars such as high-fructose corn syrup.
Read the labels for saturated fat content in terms of serving size to make sure you're not underestimating the amount of fat you're consuming. The same holds true for cholesterol content if you've been advised to cut your intake.
Buy lowfat and nonfat dairy products.
Favor soups that are low-sodium and contain a minimum of saturated fat.
To make sure you're eating nutrient-rich, fresh produce, bring home only as many fruits and vegetables as you expect to eat within a few days.
Opt for organic meats, poultry, and produce when possible.
Favor fish like salmon and sardines that are high in the heart healthy omega-3 fatty acids.
Look for lowfat alternatives to fattier foods, such as chicken or turkey sausage.
For the most flavor and nutrients, buy produce that's local and in season.
If you must have a splurge food, such as rich French vanilla ice cream, treat yourself to the best to fix your craving, and then don't bring it home again for a couple of months.
Saturated fat in common foods
Limiting the amount of saturated fat in your low-cholesterol diet is an important aspect of preventing heart disease through nutrition. Be a saturated-fat sleuth by knowing where it is and isn't, starting with this list of common foods. Check with your health care provider to determine your acceptable daily amount of saturated fat intake, and then adjust your menu accordingly.
Beef, broiled lean ground, 3.5 ounces: 7.3 grams
Butter, 1 tablespoon: 7.6 grams
Carrots, 1 medium: 0.0 grams
Chicken breast, roasted skinless, 3.5 ounces: 1.3 grams
Chicken, dark meat, roasted skinless, 3.5 ounces: 2.7 grams
Kidney beans, boiled, 1 cup: 0.1 grams
Milk, 2%, 8 fluid ounces: 2.9 grams
Milk, whole, 8 fluid ounces: 4.9 grams
Olive oil, 1 tablespoon: 1.8 grams
Scallops, 3 ounces: 0.1 grams
10 fruits and vegetables with high antioxidant power
When low-density lipoprotein (LDL) cholesterol (the "bad" cholesterol) oxidizes, it's more likely to lead to the accumulation of plaque on artery walls. Eating fruits and vegetables rich in antioxidants helps prevent this.
Here's a list of delicious foods to shop for, starting with the ones highest in these nutrients:
Blueberries
Watercress
Blackberries
Kale
Cranberries
Strawberries
Asparagus
Raspberries
Brussels sprouts
Plums
10 great sources of soluble fiber
Soluble fiber, found in various foods, helps soak up cholesterol and eliminate it from the body. The ten most commonly recommended sources are listed here in alphabetical order. Make sure that you buy and eat these foods regularly:
Apples
Asparagus
Barley
Broccoli
Kidney beans
Lentils
Oatmeal
Pears
Sweet potatoes
Watching your cholesterol while flavoring your dressing
You build a dressing by starting with oil and then adding other tasty ingredients. Garlic and onions are a good place to start. Research shows that regularly consuming garlic is a means of raising the healthy HDL cholesterol and dropping the harmful LDL cholesterol. Include garlic, raw or cooked, in your meals and aim for one to three cloves a day. Raw onions have also been shown to raise HDL cholesterol.
The flavor of garlic mashed through a garlic press is about ten times stronger than garlic that's only been minced with a knife. Mashed garlic is also more therapeutic. Crushing releases more allicin, a phytonutrient that lowers cholesterol, thins the blood, and widens blood vessels. After you mash the garlic, set it aside for 10 to 15 minutes before adding it to what you're cooking to allow its medicinal properties to develop.
Follow these steps to make your own oil and vinegar dressing:
Decide how acidic you like it.
Some people use half as much vinegar with oil and find the bite of the dressing just right. Or go easy with the acidity and start with a 3 to 1 ratio of oil and vinegar, but by all means adjust these amounts if you like.
Add a small amount of flavorings, such as a little mustard and a pinch of herbs, until you come up with a dressing that hits the spot.
To accurately judge the acidity and flavor of a dressing, instead of sipping dressing from a teaspoon, dip the edge of a lettuce leaf in the dressing and sample that way.
Consider adding these ingredients to your dressing for flavor:
Dijon mustard
Minced shallots for a mild onion flavor
Fresh herbs, such as basil and dill
Vinegars flavored with tarragon, sherry, or chile peppers
Dried herbs have a more intense flavor than fresh herbs, so when a recipe calls for 1 teaspoon of dried and you prefer to use fresh herbs, add 3 teaspoons (which is 1 tablespoon) of the fresh.
When you use one of the less acidic vinegars, such as balsamic or rice wine vinegar, you need less oil to balance the tartness and thereby save calories.
Creating an onion flower for low-cholesterol flair
With a little fussing, you can turn vegetables into flowers, little decorations you can also eat. Crafting onions is a great way to start. With some clever cuts, their many layers easily turn into flower petals.
Make a habit of garnishing dishes with these edible beauties and be sure to eat them. Onions supply you with phytonutrients that dampen inflammation and also help lower cholesterol as well as triglycerides. Make a delicate onion flower following the steps shown in the illustration here: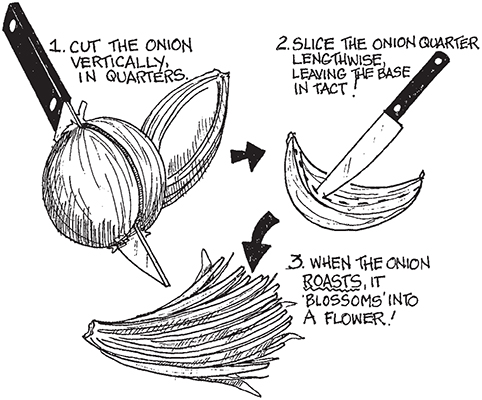 You can also make a large onion chrysanthemum. With a paring knife, cut an onion in half and each half again, making sure not to cut through the root end of the onion. Continue until segments are too narrow to cut further. Brush with oil and put in a baking pan. Roast along with a chicken. Serve the chicken on a platter decorated with the blossomed whole onion.
Bonus recipes to help you manage your cholesterol
You can find out about all the healing nutrients in foods that can help you control cholesterol, but the fundamental question that you need answers to is "What's for dinner?" That's where recipes come in — the day-to-day way to translate science-based advice into tasty dishes.
Give the following recipes a try. They include a soup and a side dish made with heart-friendly ingredients, plus two exceptionally flavorful main courses: a grilled chicken specialty from Thailand and a grand entrée that features wild salmon — the gold standard when it comes to selecting seafood that's tops for your health.
Beef Barley Soup
Beef barley soup has long been a favorite when the weather turns chilly, and the recipe here makes a great dinner solution, especially when managing cholesterol. Lean meat gives this brew substance, and the barley provides a good amount of soluble fiber, even more than oatmeal.
Prep time: 15 minutes
Cook time: Two hours and 30 minutes
Yield: Six servings
Ingredients:
One 1¼-pound beef shin on the bone, trimmed of excess fat
Salt and pepper
3 tablespoons extra-virgin olive oil
1 carrot, diced
1 medium onion, diced
1 rib celery, diced
6 cups water
1 teaspoon dried thyme
½ cup pearled barley, rinsed
1 cup chopped tomato, or 1 can (14 ounces) diced tomato
1 teaspoon unsalted butter or substitute
6 ounces button mushrooms, brushed, trimmed, and quartered
3 tablespoons minced flat-leaf parsley
Directions:
Season the meat to taste with salt and pepper. Heat 2 tablespoons of the oil in a large soup pot and place the meat in the pot. Over medium-high heat, cook the meat on all sides until seared and well browned, about 15 minutes. Remove the meat and set aside.
Add the remaining 1 tablespoon oil to the pan and lower the heat to medium. Add the carrot, onion, and celery and cook until tender, about 10 minutes. To the vegetable mixture, add the reserved meat and the water.
Bring to a boil and adjust the heat to maintain a gentle simmer. Cover the pot. Cook the soup for 1½ hours, until the meat is tender.
Add the thyme, barley, and tomato. Simmer the soup an additional 30 minutes, until the barley is tender.
Meanwhile, in a separate pan, heat the butter over medium-high heat, add the mushrooms, and sauté until golden, about 10 minutes. Add the mushrooms to the soup and simmer for an additional 15 minutes.
Remove the meat and cut into small chunks.
Skim the fat from the surface of the soup. Return the meat to the soup. Add the parsley. Season to taste with salt and pepper.
Per serving: Calories 215 (From Fat 89); Fat 10g (Saturated 2g); Cholesterol 26mg; Sodium 139mg; Carbohydrates 19g (Dietary Fiber 4g); Protein 14g
Okra Mediterranean Style
When you eat a range of colors, you consume a variety of nutrients because many phytonutrients are also pigments. Such nutrients help manage cholesterol as they do their part in keeping arteries clear. This beautiful mélange of veggies, inspired by ratatouille, a classic of French cooking, is super delicious with chicken or fish, and as a topping for pasta when you want a vegetarian meal. Okra is a great source of soluble fiber.
Prep time: 20 minutes
Cook time: 30 minutes
Yield: Eight servings
Ingredients:
3 tablespoons extra-virgin olive oil
3 cloves garlic, peeled and minced
1 yellow onion, outside skin removed and cut crosswise into ¼-inch slices
2 medium bell peppers (1 pound), preferably orange or yellow, trimmed and cut into 1-inch pieces
3 medium zucchini (1 pound), trimmed, cut crosswise into ¼-inch slices
4 Roma tomatoes (1 pound), trimmed, quartered vertically and each section cut crosswise into thirds
1½ teaspoons dried Italian herbs
½ cup water
1 pound okra, washed and thoroughly dried, tops of caps removed
Salt and pepper, to taste
Directions:
In a large pot, heat the oil over medium-low heat. Add the garlic and onions and cook, stirring occasionally with a wooden spoon, until the onions are translucent and the garlic is golden, about 7 minutes.
Add the bell peppers and cook over medium heat for 5 minutes.
Add the zucchini, tomatoes, herbs, and water. Bring nearly to a boil on medium-high. Cover, reduce to medium, and cook for 20 minutes, stirring occasionally with a wooden spoon, until the vegetables have softened.
Meanwhile, set a collapsible metal steamer in a medium-size pot filled with an inch or two of water. Make sure the water doesn't rise above the flat bottom of the steamer. Add the okra and cook over medium heat, steaming the okra for 3 to 5 minutes, until it's tender but still holds its shape. Transfer to a bowl and cover to keep warm.
Add the okra to the vegetable mixture. Stir to combine and heat the vegetables an additional 2 or 3 minutes. Salt and pepper to taste. Serve hot or at room temperature.
For the vegetables in this recipe, trim tough stems and any damaged parts, but keep as much of the skins, membranes, and seeds as possible. The more complete a food is, the more health giving.
Per serving: Calories 102 (From Fat 50); Fat 6g (Saturated 1g); Cholesterol 0mg; Sodium 82mg; Carbohydrate 13g (Dietary Fiber 4g); Protein 3g
Chicken Satay with Creamy Peanut Sauce
One of the healthiest items you can order from a Thai restaurant menu is Chicken Satay, grilled chicken served with a sweet and spicy peanut sauce. This recipe gives you a way to make it at home. In a large-scale study, eating more nuts, including peanuts, was associated with an impressive drop in heart disease — so dip into this sauce. It's lusciously creamy and full of healthy, unsaturated oils.
Prep time: 20 minutes, plus one hour for marinating
Cook time: 10 minutes
Yield: Six servings
Ingredients:
3 tablespoons fresh lime juice
2 tablespoons minced fresh ginger, about 2 inches gingerroot
2 cloves garlic, minced
1 tablespoon honey
1 cup water
1½ pounds chicken tenders
1½ cups Creamy Peanut Sauce
Romaine lettuce
Lime wedges
Directions:
In a shallow baking dish, make the lime marinade by combining the lime juice, ginger, garlic, honey, and water.
Cut each chicken tender in half lengthwise into strips about 1¼ inches wide. Again cutting lengthwise, slice each strip in half to produce chicken strips that can easily be threaded on a skewer.
Place the chicken strips in the lime marinade. Spoon the marinade over the chicken to coat. Cover and refrigerate for 1 hour. Thread the chicken strips on the bamboo skewers.
Prepare the barbecue or the grill pan by first wiping the surface with vegetable oil and heating to medium high. Cook the chicken 3 to 4 minutes on each side or until cooked through. If you're unsure that the chicken is done, cut into one of the pieces with a thin-bladed knife. The center of the chicken should be white or slightly pink.
To serve, place a couple leaves of Romaine lettuce on each dinner plate, and set skewers of chicken on them. Garnish with wedges of lime. Sliced cucumbers marinated in rice wine vinegar also go well with this dish and can be added to complete the plate. Serve the Creamy Peanut Sauce to the side in a colorful bowl.
Creamy Peanut Sauce
Prep time: 15 minutes
Cook time: 5 minutes
Yield: 2½ cups
Ingredients:
1 cup smooth peanut butter
3 tablespoons fresh lime juice
3 tablespoons soy sauce
2 tablespoons honey
2-inch length of fresh gingerroot, peeled and chopped
½ teaspoon dried crushed red pepper flakes
One 14½-ounce can low-sodium chicken broth, or 2 cups homemade broth
Directions:
Put the peanut butter, lime juice, soy sauce, honey, gingerroot, and red pepper flakes in the bowl of a food processor fitted with a metal blade. Process until smooth.
Transfer the peanut mixture to a medium-sized, heavy saucepan. Gradually add the chicken broth while stirring the sauce. Warm on medium heat, stirring as the sauce reduces, until it is the consistency of heavy cream, about 5 minutes.
Pour the peanut sauce into a bowl and serve with the grilled chicken.
You can make this sauce as much as 3 days ahead. Stored covered in the refrigerator. Before serving, warm the sauce over medium heat until hot, stirring continuously and thinning with water if necessary.
Note: Use 36 6-inch bamboo skewers, or 18 12-inch bamboo skewers, soaked in water for 30 minutes. Use 12-inch skewers if you plan to cook the chicken on a barbecue grill and shorter, 6-inch skewers if you need to fit them on a ridged grill pan.
Per serving: Calories 460 (From Fat 233); Fat 26g (Saturated 6g); Cholesterol 85mg; Sodium 772mg; Carbohydrate 17g (Dietary Fiber 3g); Protein 43g
Broiled Alaskan Wild Salmon with Chinese Vegetables
This easy-to-prepare dinner dish gives you a gourmet treat even when you think you don't have time to cook. With this wild salmon creation you can boost your intake of omega-3 fatty acids, which promote heart health, and sneak some green vegetables into your diet too.
Prep time: 20 minutes, plus one to two hours for marinating
Cook time: 15 minutes
Yield: Four servings
Ingredients:
¼ cup white miso (fermented soybean paste)
2 tablespoons unseasoned rice vinegar
2 teaspoons soy sauce
1 tablespoon minced fresh ginger
1 scallion, trimmed and finely chopped
1 pound Alaskan wild salmon fillets, skin and bones removed
1 clove garlic, minced
1 tablespoon unrefined sesame oil
4 shiitake mushrooms, quartered
4 miniature bok choy, roughly chopped, about 4 cups
2 cups Chinese pea pods
2 teaspoons toasted sesame oil (optional)
Directions:
In a shallow baking dish, whisk the miso, rice vinegar, soy sauce, ginger, and scallions. Place the salmon in the marinade and turn to coat. Cover and chill for 1 to 2 hours.
Preheat the broiler. Using a rubber spatula, gently scrape any excess marinade from the salmon and discard. Oil a shallow baking dish and arrange the salmon fillets in this.
Place the salmon under the broiler and cook until the edges turn golden brown, 7 to 10 minutes. Gently turn the fillets over and broil an additional 3 minutes. Cook the fish until it's opaque in the center. Cooking times may vary depending upon the type of broiler used.
Meanwhile, in a large skillet or wok, cook the garlic in the sesame oil 30 seconds. Add the mushrooms and bok choy. Cook over medium-high heat, stirring frequently, for 5 to 7 minutes, until the vegetables begin to soften. Then add the pea pods for the last 3 minutes of cooking. If desired, finish with a splash of toasted sesame oil.
Divide the vegetable mixture among 4 large dinner plates. Place the broiled salmon on top of the vegetables. Serve immediately with steamed brown rice.
Per serving: Calories 214 (From Fat 70); Fat 8g (Saturated 2g); Cholesterol 53mg; Sodium 267mg; Carbohydrate 10g (Dietary Fiber 3g); Protein 26g
About This Article
This article is from the book:
This article can be found in the category: