If you're adopting a low-cholesterol lifestyle, you'll need to rethink your food-shopping habits: Know which fruits and vegetables are most beneficial, and look for high-fiber foods. Also, become intimate with cholesterol and saturated-fat content in common foods so that you'll automatically make the healthiest choices.

This Cheat Sheet helps you with all of these new ways of thinking. You also can find a handful of bonus recipes.
10 shopping tips for a low-cholesterol kitchen
Adopting a low-cholesterol diet means knowing how to shop for quality foods. Whether you prefer a supermarket, farmers' market, or gourmet store, here are some guidelines to set you on the low-cholesterol path:
Check the ingredient list on labels and avoid products that contain trans fats and added sugars such as high-fructose corn syrup.
Read the labels for saturated fat content in terms of serving size to make sure you're not underestimating the amount of fat you're consuming. The same holds true for cholesterol content if you've been advised to cut your intake.
Buy lowfat and nonfat dairy products.
Favor soups that are low-sodium and contain a minimum of saturated fat.
To make sure you're eating nutrient-rich, fresh produce, bring home only as many fruits and vegetables as you expect to eat within a few days.
Opt for organic meats, poultry, and produce when possible.
Favor fish like salmon and sardines that are high in the heart healthy omega-3 fatty acids.
Look for lowfat alternatives to fattier foods, such as chicken or turkey sausage.
For the most flavor and nutrients, buy produce that's local and in season.
If you must have a splurge food, such as rich French vanilla ice cream, treat yourself to the best to fix your craving, and then don't bring it home again for a couple of months.
Saturated fat in common foods
Limiting the amount of saturated fat in your low-cholesterol diet is an important aspect of preventing heart disease through nutrition. Be a saturated-fat sleuth by knowing where it is and isn't, starting with this list of common foods. Check with your health care provider to determine your acceptable daily amount of saturated fat intake, and then adjust your menu accordingly.
Beef, broiled lean ground, 3.5 ounces: 7.3 grams
Butter, 1 tablespoon: 7.6 grams
Carrots, 1 medium: 0.0 grams
Chicken breast, roasted skinless, 3.5 ounces: 1.3 grams
Chicken, dark meat, roasted skinless, 3.5 ounces: 2.7 grams
Kidney beans, boiled, 1 cup: 0.1 grams
Milk, 2%, 8 fluid ounces: 2.9 grams
Milk, whole, 8 fluid ounces: 4.9 grams
Olive oil, 1 tablespoon: 1.8 grams
Scallops, 3 ounces: 0.1 grams
10 fruits and vegetables with high antioxidant power
When low-density lipoprotein (LDL) cholesterol (the "bad" cholesterol) oxidizes, it's more likely to lead to the accumulation of plaque on artery walls. Eating fruits and vegetables rich in antioxidants helps prevent this.
Here's a list of delicious foods to shop for, starting with the ones highest in these nutrients:
Blueberries
Watercress
Blackberries
Kale
Cranberries
Strawberries
Asparagus
Raspberries
Brussels sprouts
Plums
10 great sources of soluble fiber
Soluble fiber, found in various foods, helps soak up cholesterol and eliminate it from the body. The ten most commonly recommended sources are listed here in alphabetical order. Make sure that you buy and eat these foods regularly:
Apples
Asparagus
Barley
Broccoli
Kidney beans
Lentils
Oatmeal
Pears
Sweet potatoes
Watching your cholesterol while flavoring your dressing
You build a dressing by starting with oil and then adding other tasty ingredients. Garlic and onions are a good place to start. Research shows that regularly consuming garlic is a means of raising the healthy HDL cholesterol and dropping the harmful LDL cholesterol. Include garlic, raw or cooked, in your meals and aim for one to three cloves a day. Raw onions have also been shown to raise HDL cholesterol.
The flavor of garlic mashed through a garlic press is about ten times stronger than garlic that's only been minced with a knife. Mashed garlic is also more therapeutic. Crushing releases more allicin, a phytonutrient that lowers cholesterol, thins the blood, and widens blood vessels. After you mash the garlic, set it aside for 10 to 15 minutes before adding it to what you're cooking to allow its medicinal properties to develop.
Follow these steps to make your own oil and vinegar dressing:
Decide how acidic you like it.
Some people use half as much vinegar with oil and find the bite of the dressing just right. Or go easy with the acidity and start with a 3 to 1 ratio of oil and vinegar, but by all means adjust these amounts if you like.
Add a small amount of flavorings, such as a little mustard and a pinch of herbs, until you come up with a dressing that hits the spot.
To accurately judge the acidity and flavor of a dressing, instead of sipping dressing from a teaspoon, dip the edge of a lettuce leaf in the dressing and sample that way.
Consider adding these ingredients to your dressing for flavor:
Dijon mustard
Minced shallots for a mild onion flavor
Fresh herbs, such as basil and dill
Vinegars flavored with tarragon, sherry, or chile peppers
Dried herbs have a more intense flavor than fresh herbs, so when a recipe calls for 1 teaspoon of dried and you prefer to use fresh herbs, add 3 teaspoons (which is 1 tablespoon) of the fresh.
When you use one of the less acidic vinegars, such as balsamic or rice wine vinegar, you need less oil to balance the tartness and thereby save calories.
Creating an onion flower for low-cholesterol flair
With a little fussing, you can turn vegetables into flowers, little decorations you can also eat. Crafting onions is a great way to start. With some clever cuts, their many layers easily turn into flower petals.
Make a habit of garnishing dishes with these edible beauties and be sure to eat them. Onions supply you with phytonutrients that dampen inflammation and also help lower cholesterol as well as triglycerides. Make a delicate onion flower following the steps shown in the illustration here: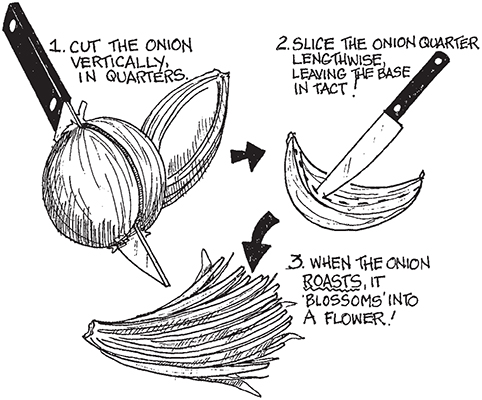 You can also make a large onion chrysanthemum. With a paring knife, cut an onion in half and each half again, making sure not to cut through the root end of the onion. Continue until segments are too narrow to cut further. Brush with oil and put in a baking pan. Roast along with a chicken. Serve the chicken on a platter decorated with the blossomed whole onion.
About This Article
This article is from the book:
This article can be found in the category: