Side dishes are one of the most easily neglected aspects of any dietary change, especially when the keto diet plan focuses on proteins. People tend to focus on the main dish, simply because that's the centerpiece of the meal and where they're likely getting the majority of their calories.

But sides like Cauliflower Mash and Browned Butter really add that zest and full-bodied flavor to meals! Your palate is expanded, and the various tastes that sides bring to the table can make or break a new dish.

This recipe takes an old favorite (mashed potatoes) and introduces a keto-friendly way to prepare the dish by using cauliflower instead of potatoes. Don't dismiss recipes like this outright — substitute ingredients almost always taste different than the original dish, but this isn't always bad.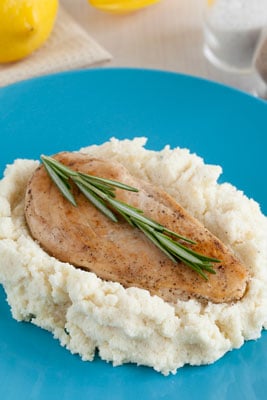 Photograph courtesy of Tasteaholics, Inc.
Use Cauliflower Mash and Browned Butter as a side dish for your entrée. In this case, chicken is shown. Side dishes are an excellent option to bring to parties or events where keto-friendly food may be in short supply. You can even turn it into a game—see how many compliments you can get on a recipe before revealing that it's keto!
Cauliflower Mash and Browned Butter
Prep time: 5 minutes

Cook time: 20 minutes

Yield: 6 servings
Ingredients
1-1/2 pounds cauliflower, chopped
3/4 cups heavy cream
Salt and pepper, to taste
1 cup shredded cheddar cheese
3 ounces unsalted butter
Directions
Place the cauliflower in a food processor and pulse into rice-like grains.
Pour the cauliflower rice into a large saucepan; then add the heavy cream.
Bring to a boil over medium heat; reduce the heat and simmer for 12 to 15 minutes, until the cauliflower is tender.
Season with salt and pepper, and then stir in the cheddar cheese. Set aside.
In a medium skillet, melt the butter over medium heat.
Cook the butter until it reaches a nice amber color; then drizzle over the cauliflower mash.
Per serving:
Calories 307 (From Fat 262); Fat 29g (Saturated 18g); Cholesterol 91mg; Sodium 243mg; Carbohydrate 6g (Dietary Fiber 2g); Net Carbohydrate 4g; Protein 8g.
About This Article
This article is from the book:
This article can be found in the category: