The good news for you meat lovers out there is all animal-protein is low glycemic. Build a meal with this star piece of beef grilled to perfection with a hint of lime and garlic. Serve with your favorite veggies!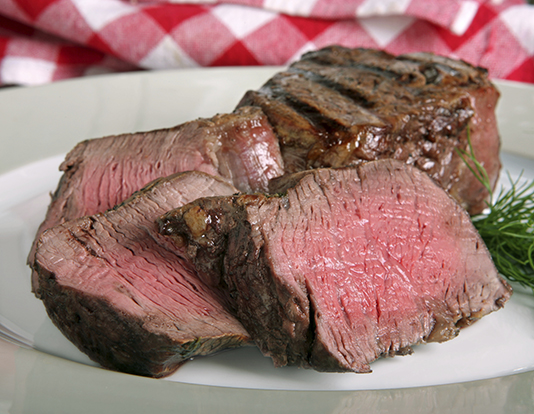 Preparation time: 10 minutes
Refrigeration time: 24 hours
Cooking time: 22 minutes
Yield: 6 servings
Specialty tool: Gas or charcoal grill, or grill pan
4 large garlic cloves, minced
2 tablespoons reduced-sodium soy sauce
2 teaspoons dried ginger
2 teaspoons Dijon mustard
1/3 cup fresh lime juice
1/3 cup extra-virgin olive oil
1/4 teaspoon cayenne pepper
1 1/2 pounds beef tenderloin, well trimmed
In a large container, mix all the ingredients, minus the beef, until well blended.

Add the beef tenderloin to the mixture and coat both sides with the marinade.

Refrigerate and marinate for 8 hours. Turn the tenderloin over once while it's marinating.

After it has marinated, let the tenderloin stand at room temperature for about 30 minutes. Then remove it from the marinade, pat it dry, and grill it to desired doneness (about 22 minutes for medium rare).

Remove the meat from the grill and let it stand for 5 minutes. Then cut the beef crosswise into 1/3-inch-thick slices and serve.
Per serving: Calories 174 (From Fat 89); Glycemic Load 0 (Low); Fat 10g (Saturated 3g); Cholesterol 57mg; Sodium 104mg; Carbohydrate 1g (Dietary Fiber 0g); Protein 20g.
About This Article
This article is from the book:
This article can be found in the category: