This low-glycemic recipe creates a moist and flavorful grilled chicken with tasty veggies all in one dish. Marinate, grill and you're done! Don't worry if it's winter, this recipe works well on an indoor grill as well.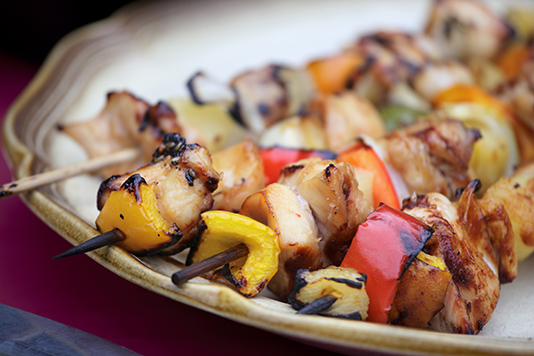 Preparation time: 15 minutes
Refrigeration time: 30 minutes to 1 hour
Cooking time: 15 minutes
Yield: 6 servings
Specialty tools: 8 to 10 skewers, soaked in water for 1 hour; gas or charcoal grill, or grill pan
1/2 cup extra-virgin olive oil
1/3 cup balsamic vinegar
1 tablespoon low-sodium soy sauce
4 garlic cloves, chopped
1 teaspoon sugar
1/4 teaspoon salt
1/4 teaspoon ground black pepper
3 chicken breasts, cut into 1-inch pieces
12 medium-large shiitake and/or portobello mushrooms (cut the portobellos into 1-inch pieces)
12 cherry tomatoes
1 red bell pepper, cut into 1-inch chunks
1 yellow bell pepper, cut into 1-inch chunks
1 zucchini, cut into 1-inch chunks
Combine the olive oil, vinegar, soy sauce, garlic, sugar, salt, and pepper to make the marinade. Mix well and separate into two long plastic or glass containers with lids.

Place the chicken in one container and the vegetables in the other. Close the lids and shake the containers until your chicken and veggies are well coated with the marinade. Place the containers in the refrigerator anywhere from 30 minutes to 1 hour.

Skewer the vegetables and chicken in whichever order you prefer.

Place the skewers on the grill and cook thoroughly, about 10 minutes. (The chicken should be cooked through, and the veggies should be soft and browned.)
Per serving: Calories 291 (From Fat 179); Glycemic Load 0 (Low); Fat 20g (Saturated 3g); Cholesterol 37mg; Sodium 240mg; Carbohydrate 14g (Dietary Fiber 3g); Protein 16g.
About This Article
This article is from the book:
This article can be found in the category: