This turkey burger with sweet potato fries requires 15 minutes of prep and then cooks for 45–60 minutes. Top your burger with belly fighters like avocado, or add a metabolism kick by tossing spices like cayenne pepper into your burgers before cooking.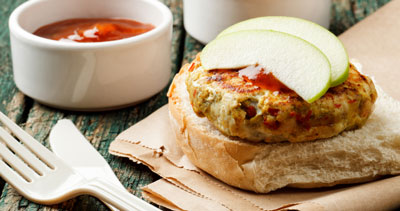 Credit: ©iStockphoto.com/InnerShadows 2011
1 pound ground 98% fat-free turkey breast
1 tablespoon minced garlic
1 tablespoon olive oil
2 tablespoons diced shallots
1/4 cup whole-wheat breadcrumbs
2 tablespoons apple cider vinegar
2 teaspoons black pepper
1 tablespoon dried rosemary
Four 100% whole-wheat hamburger buns
In a large bowl, mix together the ground turkey, garlic, olive oil, shallots, breadcrumbs, vinegar, black pepper, and rosemary. Use your hands to evenly mix the seasonings throughout the meat.

Heat a sauté pan over medium heat. In the meantime, create four even-sized patties with the meat mixture.

Add the patties to the pan and cook for 8–10 minutes, or until they reach an internal temperature of 180 degrees. Flip the patties halfway through cooking.

Place the cooked patties on hamburger buns and serve warm with the Sweet Potato Fries (see the following recipe).
Sweet Potato Fries
Two 6-ounce sweet potatoes
1 tablespoon olive oil
2 tablespoons cinnamon
Preheat the oven to 400 degrees.

Slice each potato into 15 skinny fries and place on a large baking sheet. Drizzle the olive oil over the fries and top with cinnamon.

Bake for 30 minutes, and then flip the fries over. Bake for an additional 15 to 30 minutes, or until the fries are the desired texture (longer cooking time for crispier fries).
Meal plan servings: 3 starches, 4 ounces protein, 1 fat.
Per serving: Calories 375 (From Fat 88); Fat 10g (Saturated 2g); Cholesterol 74mg; Sodium 269mg; Carbohydrate 41g; Dietary Fiber 8g; Protein 32g.
About This Article
This article is from the book:
This article can be found in the category: