This shrimp stir-fry recipe is so versatile! Instead of shrimp, you can make it with tofu, chicken, or even beans. The following recipe serves four, and requires 30 minutes of prep time and 15 minutes to cook.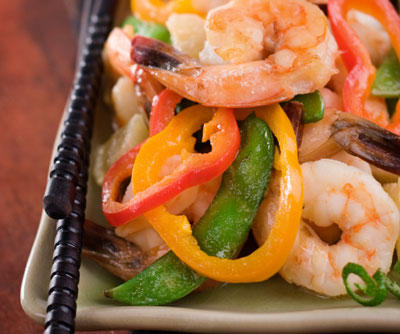 Credit: ©iStockphoto.com/Kelly Cline 2006
16 ounces shrimp, peeled, deveined, rinsed, and patted dry
1/4 teaspoon black pepper
1/4 teaspoon sea salt
1/4 teaspoon cayenne pepper
1/4 teaspoon ground ginger
3 tablespoons low-sodium teriyaki sauce, divided
2 tablespoons sesame oil
1 cup sliced mushrooms
1 tablespoon minced garlic
1 cup chopped broccoli
1 cup chopped scallions
1 yellow bell pepper, chopped
1 red bell pepper, chopped
1 cup shelled edamame
1 tablespoon sesame seeds
1 tablespoon chia seeds
3/4 cup low-sodium chicken or vegetable broth
2 teaspoons cornstarch
3 cups cooked brown rice
Place the shrimp, black pepper, salt, cayenne pepper, ginger, and 2 tablespoons of the teriyaki sauce into a small bowl. Toss together and cover. Marinate in the fridge for 20 minutes.

While the shrimp is marinating, heat the sesame oil in a large sauté pan or wok over high heat.

Add the mushrooms, garlic, broccoli, scallions, and bell peppers to the pan and sauté for 5 minutes, or until the vegetables are tender.

Add the remaining 1 tablespoon of teriyaki sauce, edamame, sesame and chia seeds, and the shrimp with marinade to the pan. Cook, stirring occasionally, for 5 minutes, or until the shrimp are opaque in color.

Continue stirring, and add in the broth and cornstarch. Allow the mixture to come to a boil, and then remove from heat.

Portion the cooked rice onto four plates. Top each with 1/4 of the shrimp stir-fry.
Per serving: 1 vegetable, 5 ounces protein, 2.5 starches, 2 fats.
Per serving: Calories 452 (From Fat 118); Fat 13g (Saturated 2g); Cholesterol 169mg; Sodium 588mg; Carbohydrate 54g; Dietary Fiber 9g; Protein 30g.
Chia seeds can be found in the organic/health food section of many grocery stores or in most natural food stores. If you can't find chia seeds or don't want to include them, you can substitute flaxseed.
About This Article
This article is from the book:
This article can be found in the category: