Protein is essential to your belly-blasting plan because it helps to keep you full and prevents muscle loss while losing fat mass. However, you need to take in the right amount of protein each day. Taking in too much or too little can sabotage your weight loss efforts.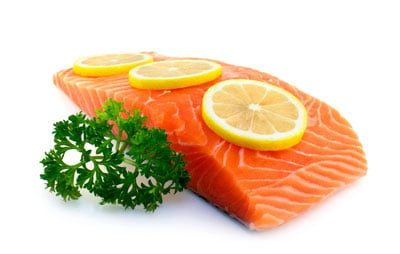 Credit: ©iStockphoto.com/Lyredmila Suvorova 2009
Except where noted, one serving size of each of the foods in the following tables equals 1 ounce of protein.
Portion Sizes of Lean Protein Choices
| Food | Size of a Serving |
| --- | --- |
| Fish | |
| All fish, including salmon, flounder, halibut, trout, cod, tilapia, herring, grouper, swordfish, and so on | 1 ounce |
| Canned tuna in water | 1/4 cup |
| Canned sardines in water | 2 sardines |
| Shellfish (clams, shrimp, crab, lobster, scallops, oysters, and so on) | 1 ounce |
| Imitation shellfish | 1 ounce |
| Poultry | |
| Chicken breast, white meat, skinless | 1 ounce |
| Turkey breast, white meat, skinless | 1 ounce |
| Cornish hen, skinless | 1 ounce |
| Ground turkey, 100% breast meat | 1 ounce |
| Ground chicken, 100% breast meat | 1 ounce |
| Pork | |
| Tenderloin | 1 ounce |
| Center chop loin | 1 ounce |
| Fresh ham | 1 ounce |
| Boiled ham | 1 ounce |
| Canadian bacon | 1 ounce |
| Beef (for all cuts, choose USDA Select and Choice cuts and trim all visible fat) | |
| Flank steak | 1 ounce |
| Round | 1 ounce |
| Tenderloin | 1 ounce |
| Eye of round roast or steak | 1 ounce |
| Sirloin tip side steak | 1 ounce |
| Top round roast and steak | 1 ounce |
| Bottom round roast and steak | 1 ounce |
| Top sirloin steak | 1 ounce |
| Game | |
| Buffalo (bison) | 1 ounce |
| Venison | 1 ounce |
| Ostrich | 1 ounce |
| Goose (cooked without skin) | 1 ounce |
| Lamb | |
| Leg of lamb | 1 ounce |
| Loin chops | 1 ounce |
| Loin shoulder | 1 ounce |
| Cheese | |
| Fat-free or part-skim varieties with 3 grams of fat or less per ounce | 1 ounce |
| Fat-free or part-skim cottage cheese | 1/4 cup |
| Fat-free or part-skim ricotta cheese | 1/4 cup |
| Parmesan cheese | 2 tablespoons |
| Other | |
| Legumes/lentils (equals 1 protein and 1 starch serving) | 1/2 cup |
| Eggs | 1 egg |
| Egg whites | 2 egg whites or 1/4 cup liquid egg substitute |
| Tofu | 1/2 cup |
| Edamame | 1/4 cup |
| Vegetable burger | 1 burger (equals 2 ounces protein) |
| Deli meat (choose varieties with 3 grams of fat or less per serving) | 1 ounce |
Portion Sizes of Medium- and High-Fat Protein Choices
| Food | Size of a Serving |
| --- | --- |
| Fish | |
| Fried fish | 1 ounce |
| Fried shellfish | 1 ounce |
| Sautéed fish or shellfish in oil/butter | 1 ounce |
| Tuna canned in oil | 1/4 cup |
| Poultry | |
| Chicken, dark meat | 1 ounce |
| Chicken, with skin | 1 ounce |
| Turkey, dark meat | 1 ounce |
| Turkey, with skin | 1 ounce |
| Fried chicken or turkey | 1 ounce |
| Ground chicken/turkey, dark meat | 1/4 cup |
| Pork | |
| Top loin | 1 ounce |
| Chop | 1 ounce |
| Cutlet | 1 ounce |
| Boston butt | 1 ounce |
| Taylor ham | 1 ounce |
| Spare ribs | 1 ounce |
| Ground pork | 1 ounce |
| Pork sausage | 1 ounce |
| Bacon | 3 slices |
| Hot dog | 1 ounce |
| Beef (any USDA Prime grade of meat counts as a medium/high-fat protein) | |
| Ground beef | 1/4 cup |
| Corned beef | 1 ounce |
| Filet mignon | 1 ounce |
| Porterhouse steak | 1 ounce |
| New York strip steak | 1 ounce |
| T-bone | 1 ounce |
| Rib-eye | 1 ounce |
| Prime rib | 1 ounce |
| Short rib | 1 ounce |
| Lamb | |
| Rib roast | 1 ounce |
| Ground lamb | 1 ounce |
| Cheese | |
| Part-skim or full-fat cheese with more than 3 grams of fat per ounce | 1 ounce |
| Other | |
| Sandwich meats with more than 3 grams of fat per ounce | 1 ounce |
About This Article
This article is from the book:
This article can be found in the category: