When you have bipolar disorder, you're encouraged to chart your moods, sleep, and energy levels daily to record patterns that may help you spot the early warning signs of a developing mood episode (mania or depression). In addition, this log provides valuable information to guide your doctor and therapist in their treatment decisions.

Print this version of the mood chart and make as many copies as you need — or feel free to make your own, if you're spreadsheet-savvy.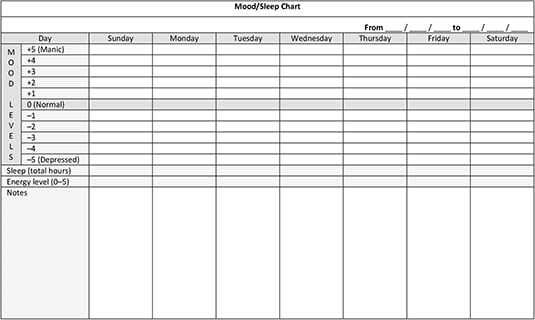 In the column for each day, record the following:
Mood level: Place a check mark in the box that represents your overall mood for that day, which ranges from –5 (Depressed) to +5 (Manic).

Hours sleep: Record the total number of hours you slept. Assigning sleep hours for a day can get tricky, because you're likely to fall asleep late one day and wake up early the next day. Consider assigning sleep hours to the night before. For example, if you slept from 10 p.m. Sunday to 6 a.m. Monday, assign those hours to Sunday (add in any nap time from during the day on Sunday).

Energy level: Write a number from 0 (no energy) to 5 (supercharged) in the Energy level box.

Notes: Jot down notes, such as a change in medication, exercise routine, or diet.
Bring your mood charts to your doctor and therapy visits. Having this type of document to point back to and reflect on can be a powerful tool.
About This Article
This article is from the book:
This article can be found in the category: