The Securities Industry Essentials (SIE) exam tests your basic knowledge of the securities industry. This exam is a corequisite exam for people who want to become an investment company representative, a general securities representative, a direct participation programs (DPP) representative, a securities trader, an investment banking representative, a private securities offerings representative, a research analyst, or an operations professional.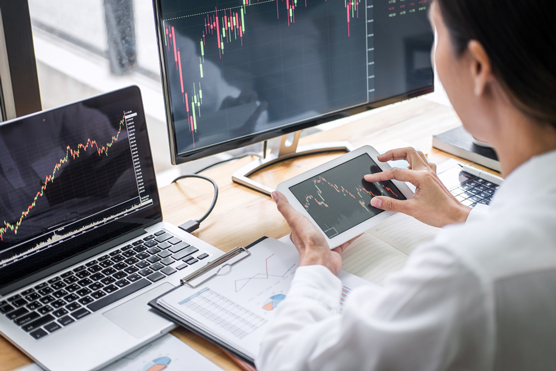 © Freedomz / Shutterstock.com
Securities Industry Essentials exam topics
The Securities Industry Essentials (SIE) Exam requires you to master vocabulary, handle customer accounts, understand the rules and regulations that govern the securities industry, and yes, work with some math formulas (although very few). Here's an overview of what to expect on the Securities Industry Essentials exam:
The underwriting process (how new securities come to market)
Common and preferred stock
Corporate bonds and U.S. government securities
Securities issued by local governments (municipal bonds)
Investment companies (including mutual and closed-end funds)
Direct participation programs (limited partnerships)
Options
Customer accounts
Analyzing the benefits and risks associated with investments; making appropriate recommendations to customers
Following how new securities are brought to the market and how existing securities are traded in the market
Risk considerations and income-tax implications that stock market investors face
Rules and regulations governing the purchase and sale of securities and the registered representative's responsibility for maintaining accurate record-keeping
The following table lists the number of questions devoted to each topic.
Distribution of SIE Exam Questions
Topic
Number of Questions
Percent of Exam
Knowledge of capital markets
12
16%
Understanding products and their risks
33
44%
Understanding trading, customer accounts, and prohibited activities
23
31%
Overview of regulatory framework
7
9%
Total
75
100%
Each of these topics falls under multiple areas of study. For example, to correctly answer questions that address the topic of handling customer accounts, you have to know enough about different types of stocks, bonds, and so on to be able to guide your customers, including which investments are more beneficial to retirees and which work better for investors who are just entering the workforce.
Each question is worth an average of 1 and 1/3 points. Some questions may be worth more, and some may be worth less, based on how difficult the Financial Industry Regulatory Authority (FINRA) believes each question is.
Great study habits for SIE exam prep
Make no mistake, the Securities Industry Essentials exam is not easy. What compounds the difficulty of this exam is the fact that you may be working full time while studying, and you may have to take the exam in a relatively short amount of time.
Using correct study habits will greatly increase your chances of passing the SIE exam the first time and will let you put it in the rearview mirror. These ten study habits can help you along your way:
Put in the hours: The SIE exam is a bear of an exam and will require a lot of hours on your part. Set yourself session and daily goals (such as finishing a chapter, finishing and reviewing a test, and so on).
Study every single day: Most of the information on this exam is going to be new to you (and most other people), so don't take any days off unless absolutely necessary because the information will be too easy to forget.
Take and review lots of practice questions: It's one thing to know the information on the exam but another thing to know how to answer questions. I would suggest that once you have a relatively good handle on the information, you spend half of your study time taking and reviewing tests and half of your study time reading your exam study book.
Use sticky notes: Use sticky notes as placeholders in your SIE exam study book. Put sticky notes in every location in your book where you need additional work. In the beginning, your book will be covered in notes. Once you fully understand the information next to your sticky note, remove that note and go to the next one. Keep working your way through the book, focusing on studying the areas next to the sticky notes. Ideally, prior to your exam, there will only be a few (or no) sticky notes left in your book.
Find a quiet place with no distractions: You really need to focus on this exam if you stand any chance of passing. Get away from the TV, family members, your phone, and your computer (unless you are using it to study for the SIE exam). Lock yourself in your room, go to the library, sit in your car, or go wherever you need to go to be able to focus.
Carry a review book or equivalent with you everywhere: Time management is very important. You never know when you could squeeze in an extra 10 or 20 minutes of study time. If you have your book or flashcards with you, you can take advantage of that time.
Make your own flashcards: Make flashcards of the information you need to commit to memory. Keep them with you all the time so that you can look at them when you have extra time. When you fully understand (and will remember) the information on one flashcard, take it out of your stack.
Take short breaks: They say that most people are good at focusing for about 20 minutes at a time. Obviously, everyone is different and you may find that you can focus for an hour or so. When you get to the point where you've just read a paragraph or question and you need to read it again because you forgot what you just read, take a break because you are wasting time. A 5- to 10-minute break will usually be enough to get you back on track.
Know what you don't know: Don't waste your time studying material that you fully understand. Spend your time focusing on the material you don't understand.
If possible, record your notes for playback: There are applications for your smartphone, tablet, and computer that allow you to record audio. When you get tired of looking at your notes or sampling practice questions, take some time to record yourself reading your notes or sections of your book. Then put on your headphones and listen to the recordings when you have extra time or are just tired of looking at your book.
Looking ahead: Corequisite exams for the SIE exam
Certainly, the SIE exam is a great starting point, but you'll need to pass another exam or so to be able to be able to be licensed to work in the securities industry.
Judging from the many classes I have taught, most people are going to move on to take the Series 7 (Series 7 Top-Off Exam, which is the General Securities Representative Exam). People who have passed the SIE, the Series 7, and the Series 66 or 63 are commonly referred to as stockbrokers or registered reps.
Here is a list of the corequisite exams and their basic functions:
Series 6 (Investment Company Representative [IR]): This exam tests the candidate's competence to get an entry-level position selling investment company securities and variable contracts.
Series 7 (General Securities Representative [GS]): The Series 7 Exam tests a candidate's ability to get an entry-level position to perform the functions of a general securities representative, including sale of corporate securities, municipal securities, investment company securities, variable annuities, direct participation programs (DPPs), U.S. government securities, and options.
Series 22 (DPP Representative [DR]): This exam tests the ability of the candidate to perform the functions of an entry-level DPP's limited representative. Candidates should be able to understand the functions of a DPP rep, including the solicitation, purchase, and sale of limited partnerships.
Series 57 (Securities Trader [TD]): The Series 57 tests a candidate's competence to obtain an entry-level position as a securities trader. Candidates should have the knowledge to execute transactions in equity securities, preferred securities, or convertible debt securities other than trading on an exchange.
Series 79 (Investment Banking Representative [IB]): Passing the Series 79 exam shows that a candidate has the basic knowledge to perform entry-level duties as an investment banking representative. Included in those duties are advising on or facilitating public or private debt or equities securities offerings. In addition, investment banking reps may advise or help facilitate mergers or acquisitions, tender offers, corporate reorganization, and so on.
Series 82 (Private Securities Offerings Representative [PR]): The Series 82 exam tests a candidate's competence to work an entry-level position as a private securities offerings representative. The main functions include the solicitation and sale of private placement securities as part of a primary offering.
Series 86 and 87 (Research Analyst [RS]): This exam tests a candidate's competence to obtain an entry-level position as a registered representative and perform the job of a research analyst. Functions include preparing written or electronic communications that analyze equity securities, companies, and/or industrial sectors.
Series 99 (Operations Professional [OS]): The Series 99 exam tests a candidate's ability to understand the basic functions of a registered representative who is going to perform a job as an operations professional. This job includes customer onboarding, financial control, receipt and delivery of securities, account transfers, collection and maintenance of funds, and reinvestment and disbursement of funds.
About This Article
This article is from the book:
This article can be found in the category: