In 2018, the Core Knowledge and Risk Management functional area was eliminated from both the Professional in Human Resources (PHR) and the Senior Professional in Human Resources (SPHR) exams, spreading the content throughout the remaining domains. Diversity and inclusion are two of the concepts that are inherently necessary to know about for both exams.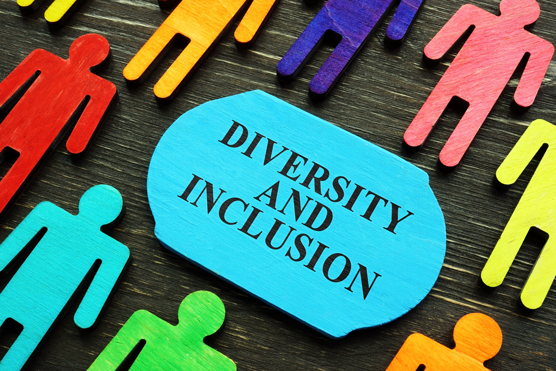 © Vitalii / Shutterstock.com

A CNN Business report in 2020 written by Johnny C. Taylor of the Society for Human Resource Management clearly articulated the excruciating fact that businesses are failing at their diversity and inclusiveness practices. It's not that they want to fail or don't recognize the value in succeeding. It may be that organizations are underestimating the magnitude of what this commitment entails. Successful implementation of these practices requires a significant investment of resources—financial and human.

Diversity is represented at two levels: surface and deep. When looking to build an organizational design intervention aimed at increasing diversity, some employers stop at surface level—those observable characteristics such as race or gender. While this is a good first step, focusing only on demographic diversity does not equate to fairness, nor does it harness the benefits that a diverse workforce brings.

We must go deeper, and begin to understand the values, attitudes, and beliefs held by individuals and then find ways to include these elements into HR practices, including hiring, as well as in day-to-day operations. For example, who is leading committees? How are problems solved? What voices are being heard? What behaviors get rewarded, and which ones are disciplined?

Diversity on a national scale: Did you know that in 2020, eight of the sitting Supreme Court justices held law degrees from either Yale or Harvard? While they're an impressive bunch who clearly were educated by the top scholars of our time, think about how the lack of diversity on the highest court in the land affects justice in America. How do you think laws would change or precedent would be set if our Justices were educated at more diverse schools, such as Temple University's Beasley School of Law in Philadelphia, or Washburn University School of Law in Kansas? What values might be better represented if the educational backgrounds of the Justices were more diverse?

In order to ensure that diversity and inclusion efforts are tied to organizational results, the process of improving diversity and inclusion initiatives should be treated similarly to strategic planning and systems development.

Take a page from Uber's playbook as an example. After the bruising headline-making behavior of co-founder and former CEO Travis Kalanick (including his handling of sexual harassment at work) that resulted in his resignation, the new CEO knew he had an uphill road to redefining the culture and establishing trust. Instead of going on an executive retreat with senior leaders to write a new set of values, he conducted a poll of all stakeholders.

The result? Twelve hundred employee submissions that were voted on more than 22,000 times resulted in a final set of eight values, one of which was simply: "We celebrate differences."

Of course, having a diversity component as part of the written values is good, but it's not enough to truly affect change or repair damage. Leadership teams must take steps to practice what they preach if they truly want to change their culture. This begins with a comparison of current state to desired state, and then the creation of an action plan to bridge the gap. The process will never fully be complete, as HR must lead the way in measuring program effectiveness and recommending real-time changes as needed.

Hiring a C-suite leader of diversity and inclusion is another common step employers are taking. Keep in mind, however, that if HR requires 20 years of experience of this candidate, they could be creating a barrier to an effective hire in two ways:
First, this role has not existed for that long.
Second, protected class groups that can offer the necessary perspective are historically underrepresented at senior levels in all industries.
HR can serve their teams well by clearly defining the desired outcome of the role and then recruiting for competencies that go beyond education or experience.

Human resources can also help improve outcomes (and manage risk) through the use of HR audits. This involves reviewing hiring data, compensation data, and demographics at all organizational levels, and measuring for disparate impact. If lack of diversity or unlawful behavior comes to light, they must take steps to remedy the situation.

Ultimately, being good stewards of the lives (and livelihoods) of the individuals who choose to work with us is a primary purpose of our industry. It begins by building healthy ways to manage all relationships at work—the hierarchical and the network. This happens by taking a good look at some of the more nontransactional aspects of HR.
How to calculate disparate impact
Metrics continue to be a valuable tool in the day-to-day operations of HR. To measure disparate impact, you must call upon the definitions from Uniform Guidelines on Employee Selection Procedures (UGESP):
"Disparate treatment occurs where members of a race, sex, or ethnic group have been denied the same employment, promotion, membership, or other employment opportunities as have been available to other employees or applicants."
The UGESP provides the formula for calculating when a disparate, or an adverse, impact has occurred:
"A selection rate for any race, sex, or ethnic group which is less than four-fifths (or 80 percent) of the rate for the group with the highest rate. . . ."
This means that you can calculate the rate of terminations of protected class groups when compared to nonprotected class groups by using the four-fifths rule. Here is an example:

Christmas Trees Inc.'s busy season has ended, and as has been the case in past practices, it must lay off workers. Of its 500 employees, 100 employees older than 40 and 75 employees younger than 40 were selected for termination. Of the 500 total employees, 200 were older than 40, with the remaining 300 younger than 40. To calculate whether disparate impact occurred against older workers, do the following:

Calculate the layoff selection rate for the workers older than 40:
100 ÷ 200 = 50%
Calculate the layoff selection rate for workers who are younger than 40:
75 ÷ 300 = 25%
Divide the selection rates to identify the impact ratio:
25 ÷ 50 = 5%
The impact ratio of 0.5 percent is less than 0.8 percent, so there is evidence that disparate impact occurred. Get more information on disparate impact (also referred to as adverse impact).
About This Article
This article can be found in the category: