Playing sad music might make violinists feel like the weight of the world rests on their shoulders, but a good, comfortable shoulder rest can give some much needed support without that heavy feeling.
A shoulder rest is a bracket or cushion that fits onto the back of the violin and helps the player to support the instrument. The violin needs support because a bit of space exists between the back of the violin and the shoulder and pectoral area.
You can support your violin just fine on your collarbone, with a little help from your left hand. But for many players, the slippery wood and the playing movements of the left hand make the violin feel somewhat unsteady. Violinists the world over have to deal with shoulder rests. Fortunately, shoulder rests help to fill the space between your shoulder and the violin, and thus make playing feel comfortable and easy.
Although violins come ready‐fitted with a chinrest, you buy your shoulder rest separately.
As with chinrests, you can choose from lots of shoulder rest models, so here's a closer look at what's involved. Ideally, a shoulder rest should do the following things:
Function rather like a lever. When you use a shoulder rest, if you press down lightly on the chinrest with your head, the scroll end of the violin should move up slightly. The extra lightness eases the movements of your left hand.

Fill the space between your shoulder and the back of the violin. Filling this space combats the effects of gravity and slipperiness.

Damp the sound as little as possible. Sound quality suffers when your shoulder rest contacts the body of the violin over a large area.

Leave plenty of freedom of movement for your neck and arms.
Shoulder rests fall into two broad categories: bracket‐type and cushion‐type models. Any good rest is adjustable in height and in position, or is available in different heights so that it can fit many different body types.
To get the right shoulder rest, try on quite a few at the store to find out which one is the most comfortable for you. Most shoulder rests retail between $15 and $30, so if you want to try a different one after you've been playing for a while, you won't be faced with a major expense.
Watch this to find out how to put on a bracket shoulder rest.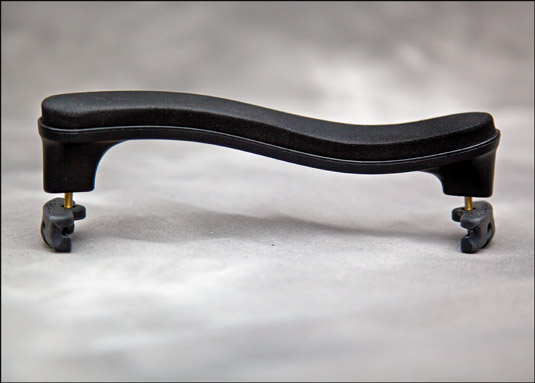 Credit: Photograph by Nathan Saliwonchyk
Bracket shoulder rest.
About This Article
This article is from the book:
This article can be found in the category: