Third position on the harmonica happens to match a scale called the Dorian mode that has been widely used since the Middle Ages. Many traditional tunes are in the Dorian mode and work well in third position.
"Little Brown Island in the Sea"
This song's original title in Scots Gaelic is "Eilean Beag Donn A' Chuain." Written in the late 19th century by Donald Morrison, a Scotsman who immigrated to Minnesota and later returned home to the island of Lewis, it speaks powerfully of the pull of home and has become a widely played and loved air in the repertoire of Celtic music.
"Little Brown Island in the Sea" lies very nicely in third position and doesn't require any bends or tricky leaps.
This song is usually played in the key of E Dorian minor on a D-harp.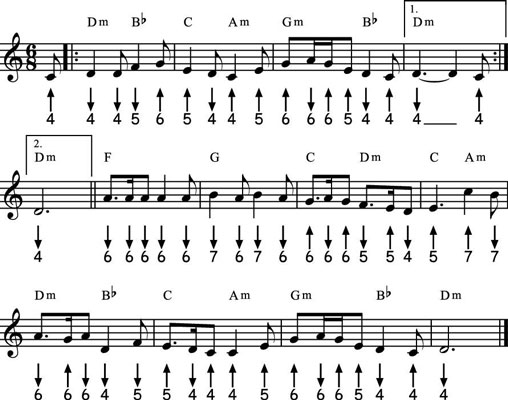 "She's Like the Swallow"
"She's Like the Swallow" comes from the island of Newfoundland and tells the story of a woman who's a little too trusting of a man's romantic intentions. It's been recorded by many folk-based artists and also as a choral piece. The version by Canadian actor Gordon Pinsent is especially great, himself a Newfoundlander.
On the harmonica, this song makes leaps from Draw 4 to Draw 6 and from Draw 6 to Draw 8. You can try playing these leaps cleanly by simply moving from one hole to another. However, you can also take the opportunity to use the corner-switching technique. This tune makes for a fairly easy introduction to corner switching.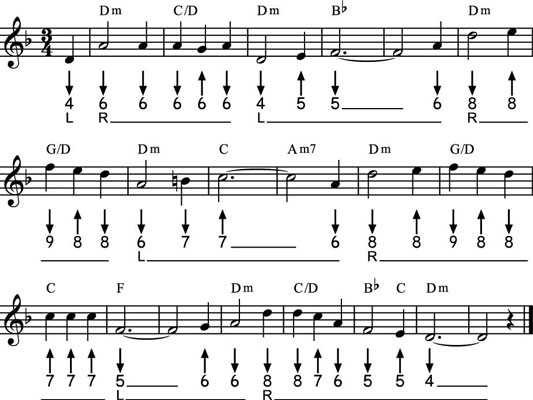 If you're up for working on your corner switching, have a closer look. Below the tablature, "L" is written at the beginning of each part of the melody you'd play out of the left corner of your mouth, and "R" at the beginning of each series of notes that you'd play out of the right side.
About This Article
This article is from the book:
This article can be found in the category: