A wraparound bridge is an integral bridge/tailpiece unit constructed traditionally from a metal bar drilled with six holes on the underside, into which the strings are loaded from the front before wrapping up and over the curved bar and heading off over the pickups and toward the neck.
The original renditions of these are solid, simple units, where the curved, slightly contoured bar acts as a single saddle piece for all strings. The bar has U-shaped slots at either end that mount firmly into steel bolts that are threaded into steel studs mounted into the body, and these bolts can be raised or lowered for overall height adjustment.
Intonation adjustment is made by tightening or loosening a small hex-screw threaded in each end of the bridge behind its U-shaped mounting bracket, which moves the bridge slightly forward or backward to adjust string length.
Gibson introduced the best-known rendition of the wraparound bridge (also called wrapover or wraptail) in 1953 as a replacement for the poorly utilized bridge that originally appeared on the 1952 Les Paul. Even after a more adjustable bridge was introduced on the Les Paul a few years later, the wraparound bridge remained standard equipment on the Les Paul Special and Junior and several other models thereafter.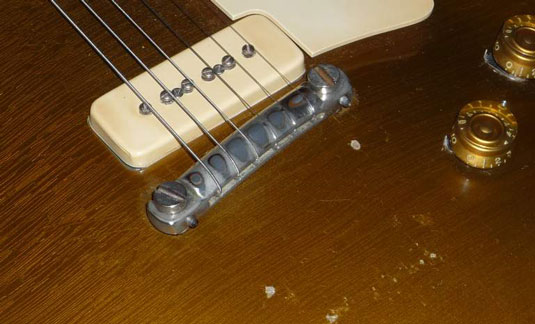 Credit: Photograph by Dave Hunter
Wraparound bridges clearly have very limited intonation adjustment facilities, but a workable compromise between all strings can usually be achieved. As crude as its design is, many players are still big fans of this bridge for its admirable sustain, resonance, and overall simplicity.
Around 1960, Gibson modified the original wraparound bridge with a raised narrow saddle ridge that zig-zagged slightly for each string to improve relative intonation.
Several contemporary makers offer renditions of the wraparound bridge in designs that incorporate individually adjustable saddles. These units intend to provide the solid anchoring of the original wraptail, with facilities for perfect intonation adjustment.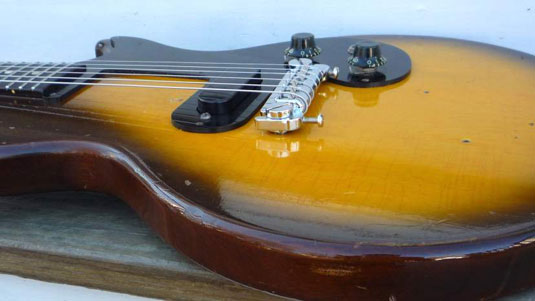 Credit: Photograph by Dave Hunter
About This Article
This article is from the book:
This article can be found in the category: