The tune-o-matic bridge was designed in 1954 by Gibson president Ted McCarty as a replacement for the wraparound bridge, and it has proved one of the most influential and most copied electric-guitar bridges since that time.
With six individually adjustable saddles, plus height adjustment via a thumbwheel at either end, this bridge allowed for extremely accurate intonation adjustment of each individual string. The tune-o-matic first appeared on Gibson's Les Paul Custom of 1954 and became stock equipment on the standard goldtop Les Paul Model and several archtop-electrics the following year.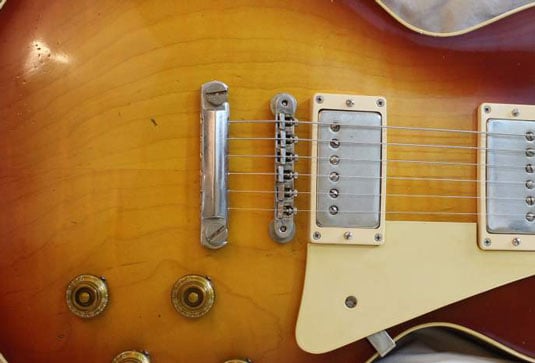 Credit: Photograph by Dave Hunter
On solidbody guitars like the Les Paul and SG and semisolid models such as the ES-335, the mounting bolts on which the bridge's adjustable thumbwheels were threaded were drilled right into the body. On such models, this bridge is partnered by a stopbar tailpiece.
The stopbar is essentially a basic wraparound bridge, but with the strings loaded from behind through its six individual anchor holes, from which they make the slight break angle upward to the tune-o-matic bridge's saddles. On archtop acoustic-electric models, they were often set into a wooden bridge base and accompanied by a trapeze tailpiece.
The tune-o-matic bridge and stopbar tailpiece, as used on a solid or semisolid electric guitar, make a solid and great-sounding pairing, enhancing sustain and natural body resonance while also offering some sharpness and clarity to the notes, thanks to the sharply angled bridge saddles.
As successful as it has been for Gibson, the tune-o-matic bridge has been copied and modified by countless other makers and remains one of the most popular bridges in use today.
About This Article
This article is from the book:
This article can be found in the category: