The bobbin of a guitar pickup holds the wire wrapped in a pickup's coil in a consistent shape and, to some extent, protects it. Think of it like a bobbin of thread on a sewing machine: It isn't an active component in the sense that it participates in producing your guitar's sound, but it assists another crucial part that does.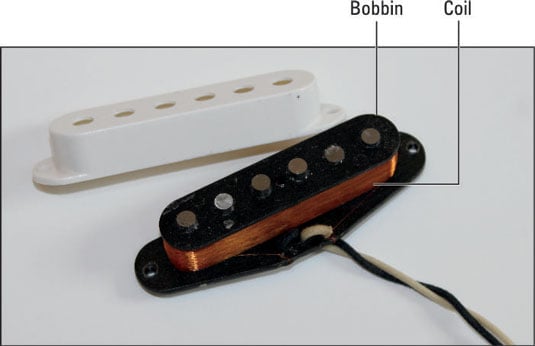 Credit: Photograph by Dave Hunter
Some bobbins, like those used on traditional Gibson humbucking pickups, consist of molded plastic top and bottom plates with an internal wall that protects the coil wire from the pole pieces. Others, like those on Fender Stratocaster and Telecaster pickups, are really just top and bottom plates with the coil wound directly around the pole pieces.
Bobbins are made from several different materials, such as molded plastic and compressed paper fiber. Purists seeking vintage-correct replacement pickups are sticklers about having all such parts made from the same materials used by the original manufacturer in question, and they often claim that the material affects the sound of the pickup in some small way, although since bobbins are nonconductive in and of themselves, this effect would have to be minimal at best.
About This Article
This article is from the book:
This article can be found in the category: