As the saying goes, an ounce of prevention is worth a pound of cure. A basic wipe-down of your guitar's strings, body, and neck with a soft, dry, lint-free cloth after each playing session should keep it clean and prevent substantial grime from building up.
Keep a cleaning cloth handy (or even a hand towel, if you tend to sweat a lot) during extended rehearsal or performance sets to wipe it all down quickly every so often between songs. And hey, stop giving away your old, holey 100 percent cotton t-shirts — they make great wipe-down rags!
More than any dirt or dust that comes naturally from the environment in which you keep the guitar, the moisture, salts, and oils from your own body — sweat, essentially — are the biggest enemies to a guitar's finish, hardware, and electrical components. If you eliminate these before they sink in, you'll rarely have any problems in the long run.
However well you think you're wiping down your guitar after playing, though, occasionally you will notice a deeper patina of grime building up here and there on the finish and the back of the neck, so a more vigorous cleaning session is occasionally required.
Acquire a good proprietary guitar polish and read the instructions on the bottle before proceeding. A few gentle squirts (start with less; you can always use more) and some elbow grease usually gets the job done.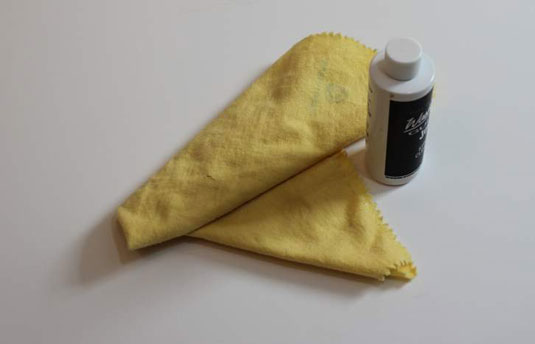 Credit: Photograph by Dave Hunter
Avoid rubbing anything abrasive into your guitar's finish, and be very careful not to squirt any cleaner or polish onto or into the pickups or the electronics. These liquids can damage them and lead to total failure of such electrical components.
You should always avoid cleaning products used to shine and restore your car's finish, because these are often too harsh for many guitar finishes (which tend to be thinner and more delicate) and often do more harm than good.
If your efforts with a standard guitar cleaner/polish don't remove all the grime, you can try just a little cream polish or light buffing compound of the type that's used to clean fine furniture, but again, start with small amounts and easy pressure to ensure you're not abrading the finish with anything harsh.
For deep cleaning lightly rusted or tarnished hardware, such as bridge saddles, adjustment screws, and the backs of tuners, spray enough WD-40 into a soft rag to soak it through — but without dripping — and then twist the rag around your fingertip and rub the offending area vigorously. This is usually enough to remove caked-on gunk without having to disassemble the parts themselves.
About This Article
This article is from the book:
This article can be found in the category: