A considerable engineering feat in its time, the vibrato unit on the Fender Stratocaster, unveiled in 1954, was one of the key features of this radical guitar. Original-style units remain in wide use today and have also inspired countless reissues, clones, and re-creations — some to exacting specs, others considerably modified.
Note that Fender always referred to this unit as a tremolo — the Synchronized Tremolo, to be precise — although this hardware, according to its function, is actually a vibrato.
The Stratocaster vibrato serves as bridge and tailpiece in one, so it needs no separate hardware to function. It does, however, require a route all the way through the guitar's body from top to back, along with a longer rectangular route in the back where the springs are anchored.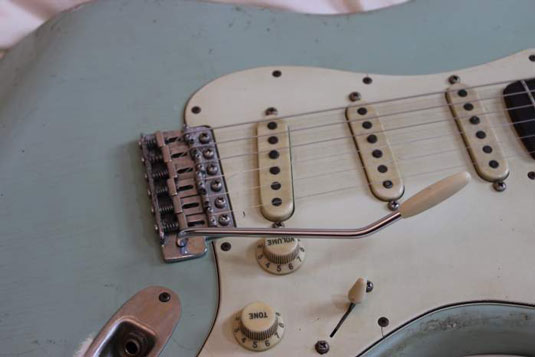 Credit: Photograph by Dave Hunter
The top of the Stratocaster vibrato reveals six individual pressed-steel saddles, all individually adjustable for both height and intonation position, mounted on a steel base that pivots on six steel screws, with a vibrato arm inserted at the lower end.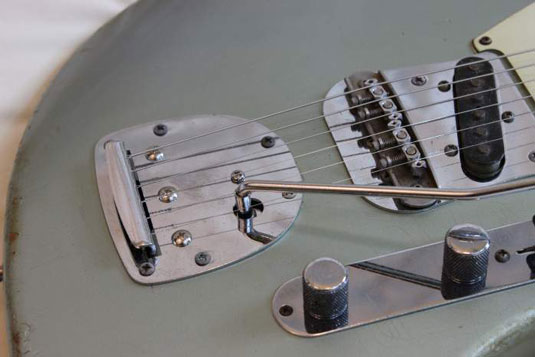 Credit: Photograph by Dave Hunter
Beneath this base is mounted an inertia block, a chunk of solid steel through which the strings are anchored. In addition to providing the anchor point for the springs that bring the unit back to its resting position, this block ingeniously compensates for the missing wood mass to which the strings would normally be anchored, making up for any sustain and clarity that might otherwise result from a poorly anchored bridge.
The Stratocaster vibrato is an extremely efficient unit that allows for anything from subtle vibrato to deep dives, all with pretty good return-to-pitch stability when set up right.
About This Article
This article is from the book:
This article can be found in the category: