Fingerpicks are an essential part of playing banjo in bluegrass style. You'll play louder, faster, and with more accuracy and power with fingerpicks turbocharging your thumb, index finger, and middle finger. You'll also hear a clearer, brighter tone from your instrument with the fingerpicks adding a percussive shimmer to the banjo's natural‐born twang.
It can sometimes take a little while to get used to playing with fingerpicks, especially if you've already spent some time using just your bare fingers. They may feel bulky at first, but most players get accustomed to fingerpicks very quickly, often after just a few minutes of use. Don't delay this transition — your picking fingers will soon thank you for it!
You'll find myriad choices of fingerpicks waiting for you at your favorite local music store. Before you pick out your picks, it's a good idea to know what's available and how picks differ from one another.
Tweaking the thumbpick
Thumbpicks consist of a flat striking surface, or blade, which moves across the strings, and a band that attaches the pick around your thumb. The blade and band are usually shaped from one piece of molded plastic or folded metal, but many players today are choosing sophisticated (and more expensive) thumbpicks with polymer blades riveted to metal bands, such as the BlueChip pick.
Thumbpicks are often sized in small, medium, and large, according to the size of the band (in which case you look for an S, M, or L stamped somewhere on the pick), and blades also differ in length, shape and thickness. Make sure you choose a thumbpick with a snug fit — you don't want the pick moving on your thumb as you play. You'll choose the blade type based on what sounds best, feels right to your thumb, and best matches the band fit.
Many players settle on a medium blade length and thickness and will choose from brand names such as Acri, BlueChip, Dunlop, Ernie Ball, Fred Kelly, Golden Gate, National, and ProPik, among many others.
Figuring out the fingerpicks
Bluegrass banjo players prefer metal fingerpicks (instead of plastic) to get the pinpoint attack and crisp tone needed for bluegrass playing. Like the thumbpick, fingerpicks also consist of a blade that strikes the strings and a band that keeps the pick wrapped around your fingers.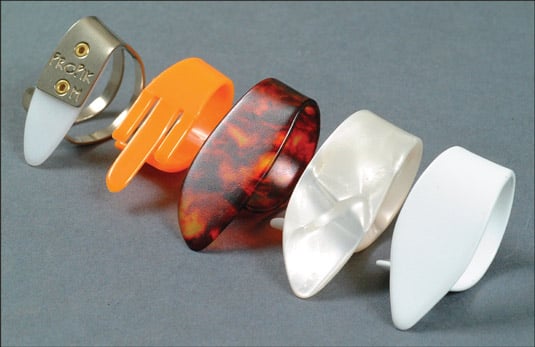 Credit: Photograph courtesy of Elderly Instruments
Comparing plastic, metal, and polymer thumbpicks.
Fingerpicks come in a variety of sizes and shapes. Some fingerpicks fit larger hands well, and some fingerpicks are stiffer, providing more resistance and a different tone. Some fingerpicks have flat blades, while others are curved. All these differences can affect how the picks feel on your fingers and the sounds you produce when you play.
Look for Acri, Bob Perry, Dunlop, National, Perfect Touch, ProPik, Sammy Shelor, and Showcase 41 fingerpicks, among other good choices, and check out some of the many different sizes and shapes of fingerpicks you can add to your collection.

Credit: Photograph by Anne Hamersky
Comparing types of fingerpicks.
It's in the nature of bluegrass banjo players to try almost every kind of thumbpick and fingerpick that's available to find just the right fit and sound for their ever‐changing tastes. There's nothing wrong with this! What works for you will change over time, and it's always fun to try out new picks and other banjo gadgets. Don't forget that all your purchases will make for great conversation starters at your next jam session.
If you're buying local, you'll be able to try on picks right in the store. If you're just starting out, you might consider taking home a pair of whatever picks they have in stock, as long as the picks aren't so big that they're falling off of your fingers. After you've gotten used to your first set of picks, you can check out online acoustic specialty stores for other pick options when you're feeling ready.
Putting on the picks
Fit the thumbpick with the blade side facing inward toward your other fingers. For the best playing angle, try positioning the pick between your first joint and the end of your thumb.
Place the fingerpicks on your picking‐hand index and middle fingers with the blade side of the pick facing toward the palm of your hand, opposite your fingernails.
Many players prefer a curved fingerpick blade that fits more snugly against the end of the finger, but you may need to bend the blade of the pick to get this shape. Gradually push and pull on the pick until you find the desired angle.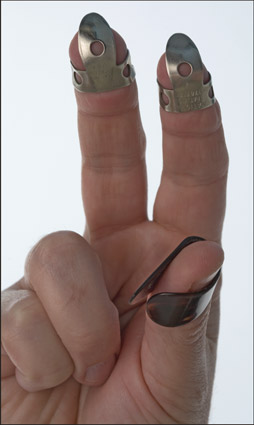 Credit: Photograph by Anne Hamersky
Proper positioning of the thumbpick and fingerpicks.
About This Article
This article is from the book:
This article can be found in the category: