Because many open‐string pull‐offs are played on the first string on the bluegrass banjo, this is the logical place to launch your pull‐off explorations. Here's a step‐by‐step guide to making your journey a smooth one:
Fret the first string at the second fret with the fretting-hand middle finger.

Play the first string with the middle finger of your picking hand.

Remember that in roll‐based playing, whenever you need to play the first string, you almost always use your middle finger to pick the string.

Pull away from the first string with your fretting finger, snapping it to fully sound the open first string.
You can also play pull‐offs from the second fret to the open string on the third and fourth strings. The tab below gets you playing on all three strings. You'll have a much easier time playing pull‐offs after you see how it's done.

Playing pull‐offs on the first, second, and fourth strings.
The first string is situated close to the edge of the fingerboard, making it easy to get a tremendously powerful snap to your first‐string pull‐offs when you pull down, away from your banjo neck. When playing a third‐ or fourth‐string pull‐off, you have the choice of moving either up or down with the fretting finger. Most players quickly figure out which direction gives them the best sound and feels the most comfortable. Try both ways and go with what works best for you.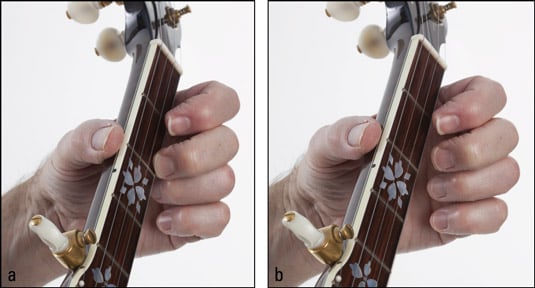 Credit: Photographs by Anne Hamersky
Playing a first‐string pull‐off: (a) fretting at the second fret and (b) pulling down with the finger to play the pull‐off.
When you combine pull‐offs with roll patterns, you want to position the pull‐offs in between the notes of the roll, just as you played with the hammer‐on. To emphasize this rhythmic approach, the tabs you find here will use sixteenth notes for the pull‐offs.
Now try playing third‐ and fourth‐string pull‐offs with the alternating thumb roll. This shows you how it's done.

Playing the alternating thumb roll with third‐ and fourth‐string pull‐offs.
About This Article
This article is from the book:
This article can be found in the category: