Woodwind instruments in general are known for their versatility of sound in classical music; none is more versatile than the bassoon. This beautiful instrument is capable of sounding completely different in all its registers.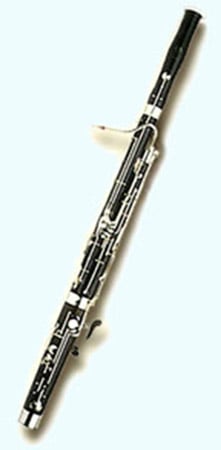 Credit: Source: Creative Commons
The bassoon.
In the highest register, the sound of the bassoon can be strained, throaty, even other-worldly. If you listen to the opening of Igor Stravinsky's greatest masterpiece, The Rite of Spring (Track 09), you hear that unusual sound in all its glory.
In its mid-range, the bassoon has a luscious, full, mellow sound when played by a pro. And in its lowest range, the bassoon can be extremely powerful and heavy (the sound of the grandfather in Sergei Prokofiev's famous children's piece, Peter and the Wolf) or lugubrious (as in the passage for two bassoons at the bottom of their range in the last movement of Tchaikovsky's Symphony no. 6 (Track 07).
Concertos for the bassoon are rare; Mozart's Bassoon Concerto in B-flat major is one of the very nicest. While you're at it, take a listen to this lovely bassoon piece: Georg Philipp Telemann's Sonatas for bassoon and harpsichord in E minor, D major, and F minor.
Along with the orchestral appearances already listed, you're sure to love these bassoon solos from orchestral literature:
Hector Berlioz: Symphonie fantastique (fourth movement)

Paul Dukas: The Sorcerer's Apprentice

Rimsky-Korsakov: Scheherazade (second movement)
About This Article
This article is from the book:
This article can be found in the category: