The best Russian composer made significant contributions to classical music. He was a self-absorbed, neurotic, vulnerable, intense guy whose entire life consisted of suffering. So that's gotta count for something. His name was Peter Ilyich Tchaikovsky ("chai-KOFF-skee"; 1840–1893).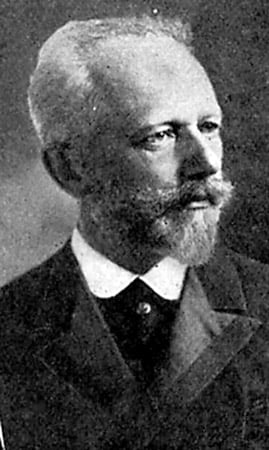 Credit: Source: Creative Commons
Peter Ilyich Tchaikovsky, the best of the Russian Romantic composers.
Tchaikovsky's well-to-do parents noticed his innate talent but were smart enough to realize that nobody makes money being a musician — and they packed him off to law school in St. Petersburg. In the tradition of many musical lawyers-not-to-be before him, however, Peter quit law to concentrate on music at the St. Petersburg Conservatory.
Eventually, Tchaikovsky was good enough to teach music at a new conservatory being formed in Moscow. He was, however, stone broke.
In one of the few lucky breaks this poor guy would ever get, the wealthy recent widow of a railroad entrepreneur, Nadezhda von Meck, fell in love with his music. She probably had the hots for him, too, which was something of a no-no among wealthy recent widows of 19th-century railroad entrepreneurs. She sent him money again and again but insisted that they never meet.
Needless to say, he was extremely grateful for her funding, and he even dedicated his Fourth Symphony to her: "To my best friend."
There's trouble
Nadezhda's cash eased Tchaikovsky's financial troubles, but his other problems were just beginning — primarily because he was gay. Homosexuality was a crime in Russia, punishable by exile to Siberia. Tchaikovsky spent most of his life concealing his nature in resolute misery. At one point, thinking that he could "cure" his torment, he even married a female admirer — but the marriage was disastrous, leaving him miserable, divorced, and worse off than before.
Pain and music
Despite his private anguish, Tchaikovsky's music — symphonies, ballets, operas, and overtures — became immensely popular, and his fame spread around the world. He even conducted at the gala opening concert of New York's Carnegie Hall in 1891.
Tchaikovsky's greatest gift was melody. In the tradition started by Glinka, Tchaikovsky wrote entire melodies into his pieces, rather than little snippets. And you've definitely heard his melodies. The theme from his Romeo and Juliet, for example, is the soaring, lush music you hear in practically every TV show and commercial when two characters fall in love. And everybody knows The Nutcracker, which has become the most popular ballet in the world.
Given the torment in most of his life, Tchaikovsky's ability to write such cheerful music as The Nutcracker is amazing. But his best music is far from cheerful. His Symphony no. 6, known as the Pathétique, is the most personal and deeply felt piece of music ever to pour from the pen of this tormented artist.
Tchaikovsky's inward struggle is the motivation behind the Pathétique symphony (Track 07). Many musicians believe that its soaring, longing melodies reflect the agony of having to live a secret life. Most devastating is the final movement, in which Tchaikovsky gives up his will to live.
This most autobiographical of all Tchaikovsky's music was perhaps his greatest achievement. It was also prophetic: Just a week after the first performance, Tchaikovsky died.
Listening to Tchaikovsky
It's impossible to oversell the music of Tchaikovsky: It blows you away. Listen to these, for starters:
Romeo and Juliet Overture-Fantasy

Suite from the ballet Swan Lake, opus 20

Piano Concerto no. 1 in B-flat minor, opus 23

Violin Concerto in D major, opus 35

Symphonies no. 4, 5, and (especially) 6
About This Article
This article is from the book:
This article can be found in the category: