Life requires regular adjustments to new environments — college is one of the most demanding. Maybe you're an undergraduate and want help deciphering the Publication Manual of the American Psychological Association, Seventh Edition. In order to write A-worthy papers, you need to be able to understand and implement the APA style. This handy Cheat Sheet offers advice for using the APA style and adjusting to college experiences.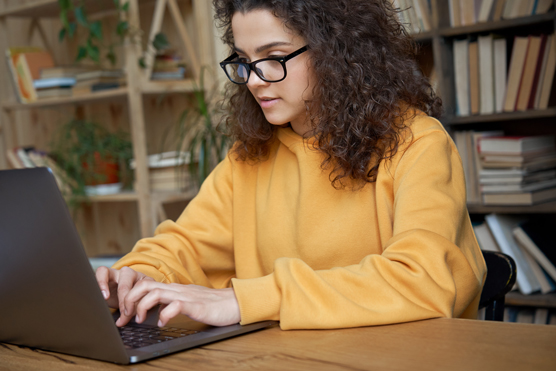 © insta_photos / Shutterstock.com
Transitioning to college essay writing
High school English classes generally prepare students very well for college essay-writing courses, especially advanced high school classes and classes with self-motivated students who read regularly. But a number of students enter college unprepared for the academic demands of college essay writing.
Here's a quick comparison showing differences between high school and college essays:
High School and College Essay Differences

| | | |
| --- | --- | --- |
| Criteria | High School Essays | College Essays |
| Grading time | Teacher teaches approximately 150 students, five periods a day, five days a week —ten minutes grading per essay requires 25 out-of-class hours | Teacher teaches approximately 80 students, twice a week — 20 minutes grading per essay requires 26.5 hours, allocated over nonteaching days |
| Drafts | One draft | Portfolio of essays require two to three drafts |
| Reader value | Essay message written for high school reading audience | Essay message written for college reading audience |
| Instructional delivery | Assigned with minimal assignment sheet, limited class instruction, and teacher-centered goals and objectives | Taught regularly in class; detailed assignment sheet includes department goals and objectives |
| Sources | Summarizing outside reading source may be required; unsupported student opinion common | Synthesizing two to three reading sources required; unsupported student opinion not accepted |
| Opening strategy | Not usually required or part of class instruction; not graded | Taught as part of class instruction; graded |
| Compositional risks | Not usually required or part of instruction or grading | Specific to assignment and department goals; part of classroom instruction and graded |
| Support availability | Limited support; availability of teacher support after school | Constant support availability during walk-in office hours, at college writing center, and academic success center |
| Revising | Synonymous with editing of spelling, grammar, and punctuation | Classroom revising required at three levels: structural, paragraph and sentences, and word level |
| Length | 500 to 550 words | 600 to 650 words |
| Structure | Generally centered around five paragraphs | Thematic requirement and length necessitate multi-paragraph development. |
| Topic requirements | Centered on supporting a thesis with the focus on who and what | Centered on developing an argument to support a thesis with the focus on how and why |
| Essay completion rate | Approximately 15 percent of high school students neglect to submit essays or submit incomplete essays | Neglecting one college essay almost always results in a course failure |
Preparing APA seventh edition assignments for final submission
Take a deep breath, a celebratory drink from your water bottle, and high-five a friend. You completed a research paper with your best effort. Here are some questions to check your compliance with APA's seventh edition before submitting your paper:
Title page: Is each element centered and double spaced? Is the title bold, centered, and written in title case? Is the title positioned in the top half of the page? Is your name written two double spaces below the title? Does the title page include your professor's name and title as well as the name of the department and the course name and number? Do you address professor and department variations of the title page, variations that supersede APA requirements?
Formatting: Does paper formatting include the title at the top of page 2, numbering in the right corner, one-inch margins, and 12-point Times New Roman font? Are paper sections properly sequenced and heading levels accurately positioned? Does page formatting address font, spacing, numbering, and margins? Do bulleted lists that aren't sentences end without end punctuation? Are hard page breaks inserted to introduce new sections that begin at the top of a new page? Does the research paper pass the eye test of what a college paper should look like?
Organization: Does the organized sequence of paper sections include title page, abstract or executive summary, contents, references, endnotes, tables and figures, and appendices? Does the organizational structure include the use of five levels of headings, section labels, and appropriate uses of lists?
Writing style: Does the writing style include strategies for audience, purpose, focus, approach, transitions, and flow? Does sentence structure address active verbs, specific nouns, agreement, and misplaced description? Does language include bias-free references to race, ethnicity, age, disabilities, gender and gender identity, and sexual orientation? Does the writing include accurate use of conventions of style? Does the writing include feedback and revising at three levels: structural, sentence, and word?
Citations and references: Is every idea taken from another source cited and listed in the reference? Do citations follow the general format of author and date? Are references accurately formatted with alphabetizing, double spacing, hanging indentations, and other required elements? Do you have an appropriate ratio of primary and secondary sources? Was the writing, especially citations and references, reviewed by writing experts, such as those available at the college writing center?
Does the assignment represent your best effort, an effort that you're proud of? Before final submission, did you first email your paper to yourself to ensure no loss of formatting?
Tips for adjusting to a new college climate
First-year college students adjust to campus life at different rates and acclimating may take two to three semesters. Avoid comparing yourself to others and remain patient and positive. Here are a few tips for socializing on campus and meeting new people.
Attend every class. Attending class not only offers you socialization opportunities, but it also reinforces your reason for attending college.
Attend athletic events and similar activities. That's a great way to find people with the same interests as you.
Avoid socializing with one person exclusively and analyze pros and cons of rooming with a good friend. Give yourself the opportunity to meet as many people as possible.
Attend college sponsored orientations, scheduled for students like you. Student orientations are designed to provide you a variety of experiences to meet people.
Arrive at classes ten to fifteen minutes early to socialize with students in your classes. Initiate conversation related to course topics such as: How's your essay going? What's the most interesting thing you've learned so far in this class?
Join a couple of campus organizations to meet students with diverse interests. Look for an organization related to your major. Attend a number of initial meetings of organizations, then follow up with the organizations that most interest you.
Walk the campus regularly taking a different route each time. Make eye contact with people you see and say "hi."
Avoid going home every weekend. Decorate your dorm room with a few mementos of your home life. If you're a commuter, spend as much time on campus as you can. Colleges offer accommodations for commuters.
Eat regularly at the busiest campus dining hall. Sit at a table with a large number of students and introduce yourself.
When working with students on group projects, exchange contact information and suggest a group text for communicating. You'll need these contacts for completing your group academic projects, and they also increase your social network.
Ask questions. You not only learn new information, but each question is an opportunity to make a new acquaintance.
Frequent the campus fitness center. Exercise helps you physically and mentally and also provides an opportunity to meet people in a relaxed atmosphere.
About This Article
This article is from the book:
This article can be found in the category: