James Dean was a film actor who remains an icon of both Hollywood and American pop culture — despite that fact that his movies are nearly 60 years old and his career consisted of only three major roles before he died in an automobile accident.
James Dean's early life
James Dean was born on February 8, 1931, in Marion, Indiana. When Dean was six, he and his family moved to Santa Monica, California. Dean's mother died when he was nine, after which his father sent him back to Indiana to be raised by James' aunt and uncle. In high school, James Dean's grades were average, but he excelled in athletics (baseball and basketball) and he enjoyed acting in school plays. After graduating, Dean returned to California to live with his father and step-mother, and he resumed his study of drama at UCLA — which led to his being alienated by his father. In 1951, James Dean dropped out of UCLA to pursue acting full time.
James Dean's films
James Dean's first role was in 1955's East of Eden, the film adaptation of the novel by James Steinbeck. Dean portrayed Cal Trask, an emotional and unhappy young man still grieving over the mysterious disappearance of his mother and forlorn by his father's favoritism of Cal's twin brother. The juxtaposition of Cal's troubles with his intuitive business savvy and his deep need to be loved required an actor who could handle complex and varied emotions. James Dean did more than pull this off — he triumphed.

Dean immediately followed East of Eden with the film that remains his best known, Rebel Without a Cause. Dean played troubled teenager Jim Stark, a role that set the bar for teenage angst and discontent and created a genre of movies about teenage troubles that's existed ever since. Rebel Without a Cause was released almost one month to the day after James Dean died in an automobile accident.

Dean's third movie was 1956's Giant, a Western epic in which he played a supporting role to Elizabeth Taylor and Rock Hudson. Dean played Jett, a poor ranch hand who buys a small plot of land and strikes it rich in oil. The film spans over 25 years and saw James Dean progress from a strapping, ambitious young man to a drunk, vindictive middle-aged man.

James Dean's three films demonstrated his superb acting abilities and his ease at portraying nearly every emotion imaginable. James Dean remains the only person to be nominated for two posthumous Academy Awards, both for Best Actor in a Leading Role, for East of Eden and Giant.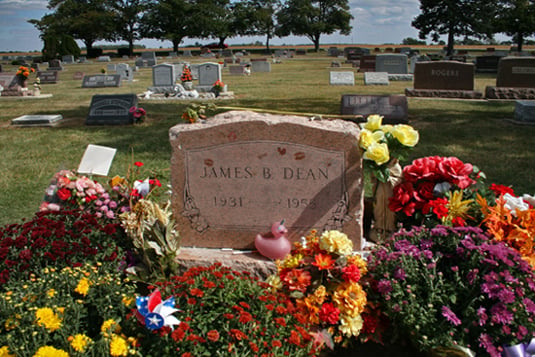 Credit: Scott Barnes, 2009
Over 50 years after his death, women still don red lipstick to kiss the grave of James Dean in Fairmount, Indiana.
James Dean's auto racing — and his death
Aside from making movies, James Dean's passion was collecting cars and auto racing. He purchased and traded motorcycles and cars frequently. When not making movies, he participated in auto races around California. He developed such a reputation as a race car driver that the producers of Giant, in order to protect their star, forbade Dean from racing during the film's production. Sadly, on September 30, 1955 (just weeks after the filming of Giant finished), James Dean died in an automobile accident while driving his Porsche 550 Spyder to a race in Salinas, California. James Dean was 24 years old.

James Dean is buried in a public cemetery in Fairmount, Indiana. His grave remains a pilgrimage site for movie buffs, fans of 1950s pop culture, and teenagers-at-heart (or some rebels-at-heart).
About This Article
This article can be found in the category: