Sir James Paul McCartney is arguably one of the greatest musical influences of all time. Additionally, he is a humanitarian who uses his music skills to raise money for causes he believes in. He is also a businessman, as an active participant in a vegetarian and vegan line of cookbooks and foods.
Despite his many accomplishments, McCartney is most well-known for his role in The Beatles. Through his whole life, he has been immersed in the music industry, fulfilling the roles of composer, instrumentalist, singer, and songwriter. He had the most number one hits in the UK in recorded history. He was inducted into the Rock and Roll Hall of Fame twice (in 1988 for The Beatles and in 1999 for his solo work).
McCartney received an Honorary Fellowship of the Royal College of Music from Prince Charles, and he was knighted by Queen Elizabeth II for his services to music, officially changing his title to Sir James Paul McCartney.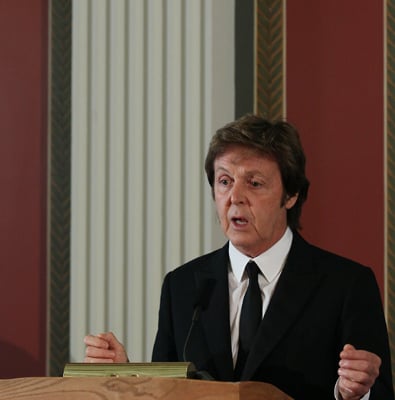 Credit: ©EdStock 2010
Although considered a top musician, McCartney never had any formal musical training, but was exposed to music at an early age by his father Jim. Jim was a jazz musician by avocation. He bought musical instruments for each of his children and encouraged them to play.
Paul McCartney and The Beatles
In 1957 when he was age 15, McCartney met John Lennon and began his music career as they formed a band called The Quarrymen. By 1960, the band changed its name to The Beatles and recruited George Harrison as lead guitarist and Ringo Starr as drummer. In 1963, their debut album, "Please Please Me," was released.
The Beatles endured a successful 10 year run, earning one of the largest fan bases in musical history. With long hair and beatnik attitudes, The Beatles became the ultimate musical sensation throughout the 1960s. They were the only group to hold all of the top five spots on the billboard charts at once. They have more number one hits on the US singles chart than any other band or musician, with 20. And "Yesterday," composed by McCartney, became the most covered song in modern music history — with over 2,200 recordings.
McCartney consistently tried to push the band in new creative directions, from mainstream pop into a psychedelic sound with more sophisticated songwriting, the use of obscure musical instruments, and influences from Eastern philosophies. McCartney even directed the majority of a made–for–TV movie in 1967 (unfortunately, it brought uncharacteristic criticism to the long acclaimed group).
Between 1967 and 1970, the band had a number of disagreements and McCartney officially announced his departure from the band in 1970 after business and artistic disagreements among the group could not be resolved.
Before leaving The Beatles, Paul married Linda Eastman in March of 1969. This would be the longest and most influential relationship of his life, lasting 30 years.
Paul grows Wings
Immediately following his departure from The Beatles, McCartney launched his U.S. number one solo album, McCartney. In 1971, he had some help from his wife Linda and drummer Danny Seiwell on his second album, and finally he formed the band Wings after adding guitarists Denny Laine and Henry McCullough to the trio.
Wings stayed together for 10 years although numerous band members came and went (only Paul and Linda McCartney and Denny Laine lasted for the band's duration). Wings enjoyed six number one hits in the U.S. — including "My Love" and "Band on the Run." Wings disbanded in 1981 amidst disputes over salaries.
McCartney flies solo
After the dissolution of Wings, McCartney focused on his solo career. During this time, he collaborated with such greats as Stevie Wonder, Michael Jackson, Elvis Costello, and Eric Stewart. Some of his solo accomplishments:
Paul released more than 15 solo albums, including the 2012 release of Kisses on the Bottom.

He produced, wrote and performed in the feature film Give My Regards to Broad Street. The film was largely criticized and only received a single star from Roger Ebert. However, in true McCartney fashion, the soundtrack hit the charts and became a UK number one hit.

In Rio de Janeiro in April, 1990, Paul performed for the largest paying audience ever.

McCartney collaborated with Harrison and Starr, producing The Beatles Anthology.

Paul also served as creative consultant to Harmonix Music Systems on the development of the video game, The Beatles: Rock Band. Footage from the game was revealed for the first time during Paul McCartney's performance at the Coachella Valley Music and Arts Festival. McCartney used gameplay footage during his concert performances while touring during the months prior to the game's release.
In 1998, McCartney suffered the tragic loss of his wife, Linda, to breast cancer. In 2000, as a testament to their long marriage, he released A Garland for Linda as a tribute to her.
Paul McCartney, the humanitarian
In 2001, McCartney helped organize the Concert for New York City and released the song Freedom in response to the September 11 attacks.
In 2002, he performed at a Concert for George, a tribute to the late George Harrison. The profits from the event went to the Material World Charitable Foundation, an organization set up by Harrison.
He performed at the Live 8 concert in Hyde Park in 2005. An estimated 3 billion people watched LIVE 8, a worldwide concert to raise funds to make poverty history.
Through his charitable works, Paul met Heather Mills and the couple married in 2002. Their daughter, Beatrice Milly McCartney, was born in 2003. The marriage ended in 2006 after highly publicized divorce proceedings.
Paul McCartney, artist as well as musician
From a very early age, Paul demonstrated an interest in all forms of artistic endeavor. He dabbled in poetry and painting, as well as writing and performing music. A few of his less known artistic accomplishments include
showing his paintings at a public exhibition in 1999.

expanding his musical talents to write a dance score for the New York City Ballet.

publishing a book of poems and song lyrics, Blackbird Singing.
Paul McCartney, vegetarian and businessman
Outside of his musical career and art interests, McCartney is active in the vegetarian movement. He became vegetarian while married to Linda and he has promoted awareness of animal testing and supported several Humane Society campaigns. He even wrote a letter to the Dalai Lama asking why he was not a vegetarian.
After Linda's death, McCartney helped Linda McCartney Foods, a vegan and vegetarian line of food products, remain free of genetically engineered ingredients. Although Linda's company was sold shortly thereafter, Paul and the rest of the McCartney family remain involved in the business and take an active role in every step of the process.
Paul, Stella, and Mary McCartney wrote a cookbook entitled The Meat Free Monday Cookbook: A Full Menu for Every Monday of the Year.
About This Article
This article can be found in the category: