Chalk paint is all the rage. It's a great product for all you motivated, do-it-yourselfers out there who want a new project. Dry brushing is a technique you can use with chalk paint to achieve a trendy distressed look that catches the eye.

This technique uses a small amount of paint on a brush to achieve a unique depth on any surface area. The term dry brush has been coined because you remove paint from your paint brush to such a degree that you are essentially using a dry brush to apply your paint. Dry brushing is a fun way to refinish an old piece that creates shadow and generates new interest using only a few simple items.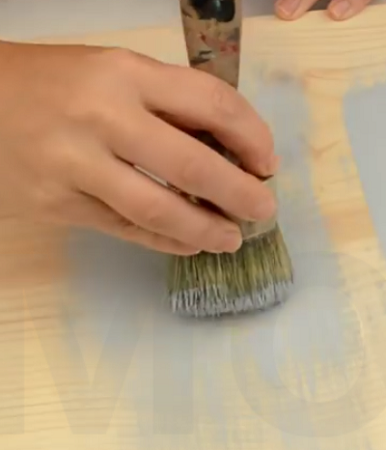 Image courtesy of YouTube.com/Tru Furniture
Dry brushing with chalk paint is a simple technique that creates a unique look.
Supplies needed for dry brushing
Before you get started, you will need to gather a few supplies. Make sure you have the following:
Paintbrush: Often, a chip brush is recommended because of the coarse nature of the bristles, but any brush will do. Choose one that you prefer.
Chalk paint: You can use any color. Neutral colors are good options for a toned down look or you may want a bright color to create an interesting discussion piece. Chalk paint can also be expensive. If you are looking to reduce costs, check here for tips on making your own chalk paint.
Paper towels, piece of cardboard, or other dispensable material: You will need this for the offloading process. You can also use the paint can lid if you find yourself short of materials.
Wax polish: This is optional. The wax polish is a protective layer for your project and is not always necessary. This, as with most do-it-yourself projects, is a matter of personal preference.
One of the key elements in using the dry brush technique with chalk paint is offloading. Offloading is the process of wiping paint off of the brush after you have dipped it in paint. You can do this on a paper towel or other material to prepare your dry brush.

One of the great things about chalk paint is that you don't need to prime or sand your piece as you do with latex paint.
Steps for the ideal weathered look
To achieve that ideal weathered look without the use of sandpaper, just follow these simple steps:
Gather your supplies and prepare your work area. Depending on what you are painting, this does not need to be a large area. However, it is always a good idea when painting to cover your work area with a protective layer.
Clean the surface you intend to paint. You only need to use a cloth and water. If you have persistent issues with dirt or other unwanted substances, you can use soapy water. Other cleaning substances may keep your paint from adhering to your surface.
Dip the tip of your paint brush into your paint. Be careful not to apply too much paint. You only need a very small amount.
Next, run your brush over a paper towel or other dispensable material so that the wet portions of your paint offload and you are left with a relatively dry brush.
Paint your project! You can paint your piece using different amounts of paint and various brush strokes to achieve the look you want.
(Optional) Once your piece has finished, you can apply a layer of wax polish to provide a protective layer.
Options for different effects
Here are a few options for painting a piece to achieve the look you want:
Cover the flat surfaces but leave the edges, joints, and grooves to show the surface beneath. You can see this dry brushing technique in action in this video tutorial.
Use a light feathering over only the raised area of a project, which will leave you with a slightly distressed look while maintaining the color beneath. Check out this dry brush video tutorial for an example of the feathering technique.
Vary your brush strokes for unique coloring effects. For example, using vertical strokes or horizontal strokes can alter the appearance of your project.
The dry brush technique can be accomplished with or without layering. If you want the natural wood of a piece to show through, you can perform dry brushing without a base coat. Or you can choose to apply a base coat, as in the steps above, for a multi-color finish.

Give it a try! You might surprise yourself with your own DIY handiwork.
About This Article
This article can be found in the category: