Illustrating movement takes some tricks, but the impression of movement adds so much life to your illustrations that mastering these techniques is worth the time and effort.
Draw a fierce fashion walk.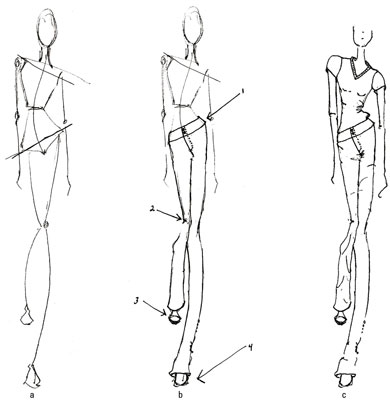 Sketch a fashion figure walking with one leg forward. Slant those shoulders and hips for fashion attitude.
Draw pants. Angle the waistband with the hips. Keep the knees together, as in #2. And for the back leg, draw the hem of the pant leg curving downward for perspective, as in #3. Keep the forward leg long and directly under the head, as in #4.
Draw a shirt and finish the illustration with fold lines curving into the body to represent the clothing moving with the body as your model walks.
Draw a fashion figure who can turn on a dime.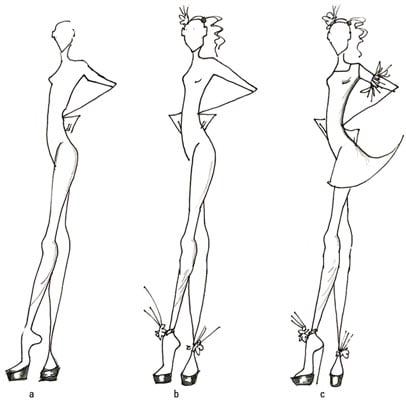 Drawing a fashion figure who looks like she's turning isn't impossible, although it's not as easy as a straight-on pose.
Draw a three-quarter body stance with the face looking straight ahead. Put the figure's hands on her hips during a turn. Add shoes for stepping style.
Draw a few simple lines for clothing and make them twirl to help give the illusion of spin.
Draw some crazy hip action.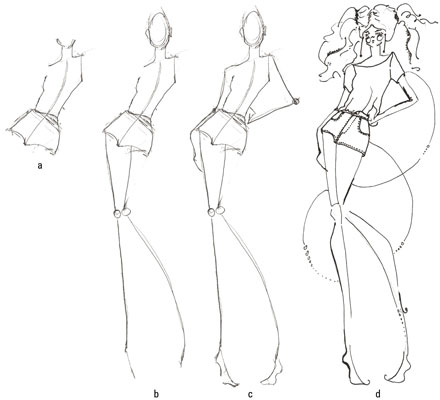 How far can a fashion artist kick out a hip in a fashion drawing? Pretty far if you're looking for attitude! Not only does a drawing of a fashion figure look better with a hip thrust to the side (this is true for both guys and girls), but the waist tilts and shoulders angle as well, making for fierce attitude.
Draw a torso with angled shoulders and oppositely angled hips. Make sure the hips are off to the side, not directly under the shoulders.
Add the legs. Keep the higher-hip leg straight. The lower-hip leg meets with the other leg at the knee but curves away from there.
Make the feet turn in and face each other for an awkward but edgy stance. Keep one arm bent and the other lying on the body along the upward hip.
Finish by filling out the lines with body shapes and clothing that follows the angles of the body.
Draw a male model's strut.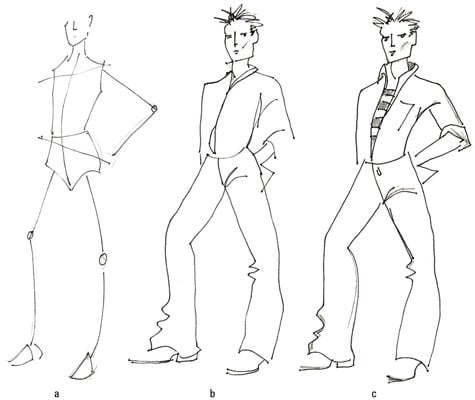 Quickly sketch a three-quarter pose of a male fashion figure with one leg to the side and one leg forward. Draw only one arm on the hip. Indicate clothing with a few lines.
Add clothing details and shadow.
About This Article
This article is from the book:
This article can be found in the category: