All fabrics work for at least one type of clothing, but as a fashion artist, you're the one who chooses the type of fabric that works for your fashion figure's clothes. Texture, which in the fashion world means the feel of the fabric, suggests different fabrics and adds a sense of dimension.
Draw a herringbone texture.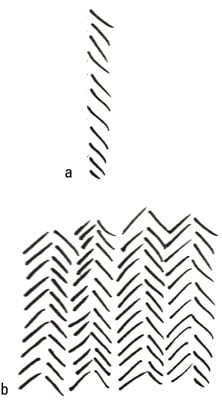 The herringbone texture is named after a fish, because the pattern of thin, parallel lines looks just like a herring's spine. In fabric, herringbone is a texture in which the threads are woven together.
Drawing the herringbone texture is about knowing how to team up your lines and point them in opposite directions to form right-side-up and upside-down V's (this alternating V shape is called chevron). Fabric with a herringbone pattern is often used to make pants and men's sports jackets.
Draw a series of angled lines in a vertical row. Repeat in a chevron pattern, switching the direction of the angle with each vertical row.
Draw classic herringbone pants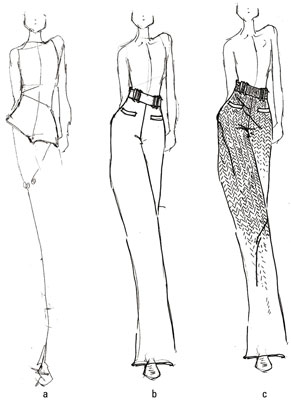 Draw a fashion figure of a woman. Map out a wide pair of pants with a high waist. Add your herringbone texture, leaving an unfinished area for fashion balance.
Add cross-hatching to an illustration.

Draw a series of horizontal straight lines. Keep the lines evenly spaced and not too close together.
Draw vertical lines across the horizontal lines. Apply the same spacing.
Use for texture in clothes like a tweed skirt.
Draw a boa using the cross-hatch technique.

Draw the top half of a female fashion figure. Map out a tight tank top with a curved neckline. Draw two rows of zigzag cross-hatch around the collar line for fashion fluff.
Draw a textured jacket with stippling.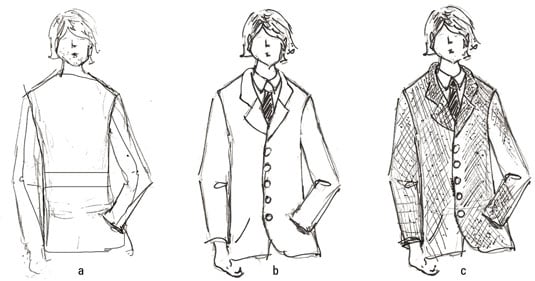 Stippling is a technique of drawing tiny little dots, and it never looks better than when you use it to add texture on a great-looking wool jacket or sensible, slimming pencil skirt. Stippling works well on fabrics with a rough texture, such as wool, crepe, and sequins.
Stippling dots represent holes, nubbing, flecks in the material, or areas where the threads overlap in the weave structure.
Draw the top half of a fashion dude. Map out a jacket. Stipple and cross-hatch the jacket throughout the design.
Show texture by drawing a woman wrapped in shearling.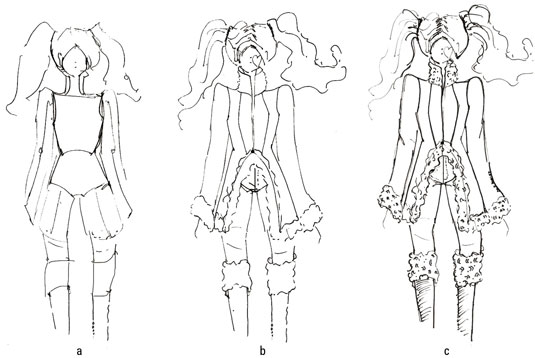 Drawing a warm, shearling-trimmed coat and boots on your fashion figure is an awesome exercise in texture.
Draw a female fashion figure. Map out a fitted coat and knee-high boots.
Draw little broken lines on the perimeter of the trim on the coat and the top of the boots. Add small curved lines on the interior to create texture and dimension.
About This Article
This article is from the book:
This article can be found in the category: