The Role of the Trombone in Classical Music
The Role of the Trombone in Classical Music
The trombone offers a special sound to classical music. Every red-blooded American of a certain age knows what a trombone is, thanks to a famous song that has 76 of them. The trombone is the quintessential parade instrument; no marching band would be complete without it. It's a powerful low brass instrument. But this characteristic is just one of the trombone's many sides. It can also play noble, beautiful tones.
The trombone's basic design hasn't changed much in more than 500 years! Amazingly, the trombonists of the Renaissance played basically the same instrument as the one that is used today. (But back then, it was called a sackbut.) Here are some of the things that all budding trombonists must know.
Sliding around
At first glance, you can easily see how the trombone differs from all the other brass instruments: It has a slide. To explain how a trombone works, let's start with a trombone with its slide pushed all the way in. In this position, the trombone is as short as it can be. This is called first position.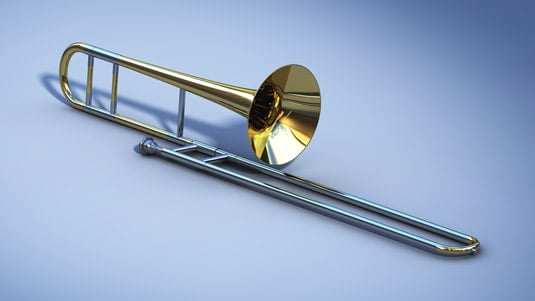 The trombone.