How to Connect your Keyboard to your Home Stereo
How to Connect your Keyboard to your Home Stereo
Why wouldn't you want to share your keyboard playing with your entire house via home stereo? All home stereo systems include some form of additional input, usually labeled as an aux or auxiliary input and sometimes tape input. In a few simple steps, you can connect your keyboard to your home stereo.
Home stereo audio/video gear commonly uses a different type of connector called an RCA plug. The RCA plug has a small, thin plug connector surrounded by a metal shield. These plugs are mono, which means you need two cables to connect to your home stereo/theater device if you want to hear your keyboard coming out of both speakers.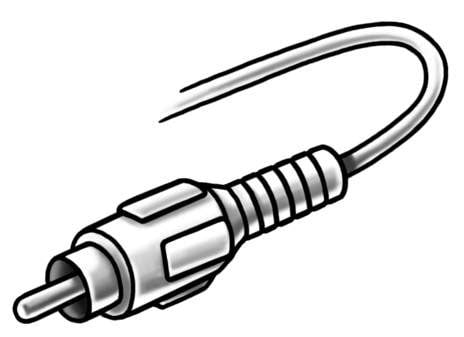 This plug is commonly used in home stereo and home theater audio/video products. It makes a great connection because of its metal shield, which fits securely over the jack on the device you're plugging into.
Here are the most common situations for connecting:
If your keyboard has two 1⁄4-inch line outputs labeled L/Mono and R (left/mono and right), you need two cables that have male mono 1⁄4-inch plugs on one end and male RCA plugs on the other. (The terms female and male are used to describe jacks and plugs in the obvious way.) These are very common, easily found items.

If your keyboard has a single stereo 3.5-millimeter jack (labeled as an output), you need a special type of Y cable that has a male stereo 3.5-millimeter plug on one end and splits out into two cables with male RCA plugs on their ends.

If your keyboard offers no jack labeled as an output, you can use the headphone jack to connect to your stereo. If it's a 3.5-millimeter jack, follow the advice in the preceding bullet. If it's a 1⁄4-inch jack, you need a cable with a male stereo 1⁄4-inch plug on one end that breaks out into two male.

RCA plugs on the other. This Y cord is less commonly found in general electronics stores but readily available in musical instrument stores and online.
Many Y cables are very short, and it's possible (although not optimal) to use a stereo 3.5-millimeter or 1⁄4-inch (depending on your jack) plug to two female RCA jacks and then buy two longer male RCA to male RCA cables to make up the distance.
Your best bet is always to use a cable long enough to make the connection without requiring adapters or additional connectors. These items can weaken the signal and make noise.
Brick-and-mortar stores may have limited selections of cable lengths, so if you can't find the right cable length in a store, try looking online. Many companies offer a much wider variety of cable types and lengths on their websites than any storefront carries. And many of the familiar-name stores offer a wider selection on their websites than they carry in the store.
When you're armed with the correct cables, here's how to connect them:
Make sure both devices are turned off and their volumes set to 0.

Connect the L output of your keyboard to the L aux in and the R output of your keyboard to the R aux in.

Turn on the keyboard first, waiting until it has fully powered up before moving on.

Set your home stereo to aux and then power it on.

Bring the keyboard's volume up to around 50 percent.

While playing some notes on the keyboard, slowly bring up the home stereo volume to around 10 to 25 percent.

If you need a little more volume, go back to your keyboard and raise its output slightly.