How to Mark Your Own SkyDrive Territory and Add Files
How to Mark Your Own SkyDrive Territory and Add Files
The default folder names on SkyDrive are essentially self-explanatory: The contents of Documents are for your eyes only, for example, and the Public folder can be accessed by anyone through your Windows Live profile. If you might prefer to create your own top-level folders within SkyDrive, with names like "My Krazy Kat Klassics" and "Important Stuff."
To organize your SkyDrive to your liking, follow these steps from the main SkyDrive screen to create a new folder: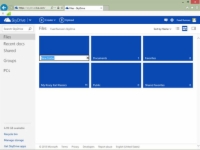 1

Click Create and click Folder from the menu that appears.

SkyDrive displays a new folder tile (or folder link).
2

Type a descriptive name into the Name text box and press Enter.

This creates a folder with the default security settings.
3

Right-click the folder you've just created.

Choose Share from the menu that appears.
4

Choose how to share the contents of your new folder.

You can send an e-mail to those lucky folks (Send Email), or post a link on Facebook, Twitter, or LinkedIn. Click Get a Link to create a link with two security levels that you can insert into a web page or e-mail message manually: a View Only link and a View and Edit link. (Visitors have to use the link you provide to access the folder.)

You can also choose to make the contents of this folder completely public — click Get a Link and click the Make Public button, and anyone can search for and view the contents of this folder.

Click Done to continue.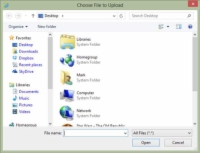 5

If you'd like to immediately add files to your new folder, click the Upload button on the toolbar and select the desired files using the Choose File to Upload dialog box.

You can also drag and drop files from a File Explorer window into the square. The maximum size for each file upload using a web browser is 300MB, but you can upload files of up to 2GB in size using the SkyDrive application.

Uploading may take some time, depending on the speed of your Internet connection, so do not close or navigate away from the Upload screen until the completion message appears.

To add files to an existing folder, click the folder from the main SkyDrive screen to open it and then click the Upload button. SkyDrive returns you to the Choose File to Upload dialog, ready for you to select files.