Using the Elements Gallery in Word 2008 for Mac
Using the Elements Gallery in Word 2008 for Mac
A feature that's brand new in Office 2008 for Mac is the Elements Gallery. The Elements Gallery offers a quick way to insert things into your Word documents — like bibliographies, tables, charts, artistic text, and more. To add an element to your document:
1

Choose View→Print Layout to switch to Print Layout view and click the appropriate tab for the element you want to add to your document.

Document Elements: Lets you add preformatted and professionally designed items, such as cover pages, tables of contents and bibliographies.

Quick Tables: Lets you add preformatted and professionally designed tables (grids).

Charts: Lets you add preformatted and professionally designed charts to your documents.

SmartArt Graphics: Lets you add or turn selected text into preformatted and professionally designed illustrations, such as organization or pyramid charts.

WordArt: Lets you turn text into artistic text by adding preformatted and professionally designed effects to it.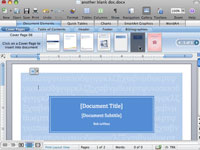 2

To insert an element into your document page, click the thumbnail of the item in the Elements Gallery.

The element appears in your document in the location where you positioned the insertion point. In the figure, the Cover Pages option is selected on the Document Elements tab.

To the right of the seven cover page thumbnails in the figure is a little oval that says "1 of 3," with arrows on either side of the words. Whenever you see this oval, it indicates that more (two, in this example) lists of cover page thumbnails are available. Clicking the right arrow will display the next seven cover pages, and clicking it again will display the last set.