How to Use a Section Format in Word 2007
How to Use a Section Format in Word 2007
In Word 2007, you can apply a specific format to a section. You can format sections in the Page Setup dialog box. To determine what section you're in, right-click the status bar.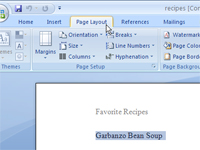 1

Click the Page Layout tab on the Ribbon.

The Page Layout tab is the third from the left, located between the Insert and References tabs.