How to Select a Printer in Word 2007
How to Select a Printer in Word 2007
The Print dialog box in Word 2007 enables you to choose which printer to use to print your document, especially handy if you're working on a networked computer with multiple printer options.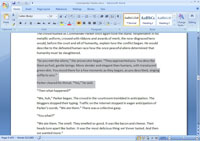 1

Click the Office Button.

The Office Button hangs out in the upper-left corner of the Word 2007 screen.