How to Remove Words from the Word 2010 Custom Dictionary
How to Remove Words from the Word 2010 Custom Dictionary
Word 2010's Add to Dictionary command adds words to Word's custom dictionary, which is a supplemental list of spelled-correctly words used to proof a document. Recognizing that people may change their minds, Word allows you to edit its custom dictionary, to remove words you may have added accidentally.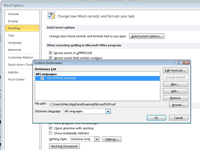 2

From the left side of the window, choose Proofing.

Click the button labeled Custom Dictionaries.

The Custom Dictionaries dialog box appears.
3

Select the CUSTOM.DIC dictionary file.

It's probably the only item in the list.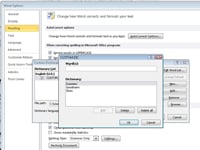 4

Click the button labeled Edit Word List.

You see a scrolling list of words you've added to the custom dictionary.
5

Find and select the word you want to remove from the dictionary.

You can select the word by clicking it once.
6

Click the Delete button.

The word disappears from your custom dictionary.
7

Repeat Steps 6 and 7 if you want to remove more words.

You can remove as many words as you want.
8

Click the OK button when you're done editing the dictionary.

The Custom Dictionaries dialog box closes.