How to Recover a Draft of a Word 2010 Document
How to Recover a Draft of a Word 2010 Document
If you don't save a Word 2010 document before Word closes unexpectedly, that document may not be completely lost. Computers crash. Users forget to save in a pinch. Or perhaps some other type of disaster has befallen your unsaved Word document.
When the planets are properly aligned and the word processing gods are smiling, it's possible to recover those lost documents, the ones that Word calls drafts.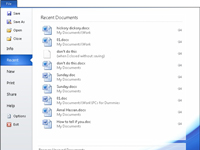 1

Click the File tab and select Recent from the list.

You see the list of recent documents. When unsaved drafts are available, you see a link at the bottom of the list: Recover Unsaved Documents.
3

Select from the list the document that you want to recover.

The document may have an unusual name, especially when it has never been saved.
4

Click the Open button.

Word opens and recovers the document.