How to Protect Your Word 2007 Document
How to Protect Your Word 2007 Document
In Word 2007, you can protect your documents from being modified, or changed, by others. The easiest way to protect your document is to use the Protect Document command button.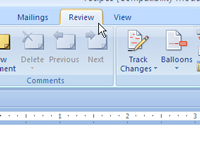 1

Click the Review on the Ribbon.

The Review tab is the sixth tab from the left, located between the Mailings and View tabs.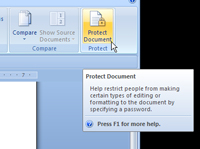 2

In the Protect group, click the Protect Document button.

The Protect group is the last group on the far right of the Ribbon.