How to Print a Word 2010 Document
How to Print a Word 2010 Document
You use a printer, either attached directly to your computer or available on a network, to create a hard copy of your Word 2010 document. Before you print a Word document, you can preview the look of the final document: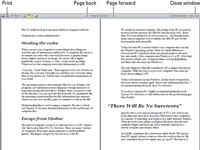 1

To get into Full Screen Reading view, click the Full Screen Reading button found on the taskbar.

The screen changes to show your document. Take note of how your text looks on the page. Look at the margins. If you're using footnotes, headers, or footers, look at how they lay out. The idea is to spot something dreadfully wrong before you print.
2

Click the Close button when you finish perusing and previewing your document.

Though you can edit and do other things in Full Screen Reading view, you may want to switch back to either Print Layout or Draft view for editing.
3

Verify that your printer is ready for the job.

Make sure that the printer is connected, turned on, and ready to print.
4

Click the Save button on the Quick Access toolbar.

Saving before you print is always a good idea.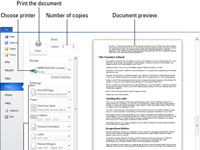 5

Click the File tab and select the Print command.

Alternatively, you can use the keyboard shortcut Ctrl+P. You see the document previewed in the File tab window. That's the Print Settings window. If you want to print one copy of the whole document, skip ahead to Step 11.
6

To print a certain page, position the cursor on that page in the document, click the button beneath the Settings heading, and choose Current Page from the menu.

The single page prints with all the formatting you applied, including footnotes and page numbers and everything else.
7

To print various pages, choose the command Print Custom Range from the Settings button menu, then enter the pages you want to print in the Pages text box.

For example, to print pages 3 through 5, type 3-5. To print pages 2 and 6, type 2,6.
8

To print a block of text, mark the block of text you want to print in your document and choose Print Selection from the Settings button menu.

The Print Selection item is available only when a block is selected in your document.
9

To print more than one copy, enter the number of copies in the Copies text box.

For three copies, for example, click in the text box and type 3.
10

Click the Print button.

The File tab window closes and the document spews from your printer. Printing may take some time — a long time. Fortunately, you can continue working while the document prints.