How to Open a Document in Word 2010
How to Open a Document in Word 2010
You have several ways to open a Word 2010 document that was previously saved as a file on disk. Open is the standard computer command used to fetch a document that already exists on the PC's storage system. You use Open to hunt down documents that were previously saved and open them like you're unwrapping a present. The document is then displayed in Word's window as though it has always been there: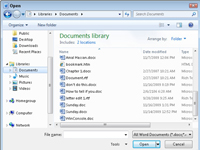 1

Choose the Open command from the File tab menu.

Alternatively, you can use the keyboard shortcut Ctrl+O. Either way, the Open dialog box materializes.
2

Locate the document you want to open.

The Open dialog box — vast and wild as it is — contains a list of documents previously saved to disk. Your job is to find the one you want to open. Using the Open dialog box, you can examine various folders on your PC's hard drive, and on any computer network your PC is connected to, to scour for files to open.
4

Click the Open button.

Word opens the highlighted file, carefully lifting it from your PC's storage system and slapping it down on the screen.