How to Lock a Word 2010 Document
How to Lock a Word 2010 Document
When you really, really don't want anyone messing with your Word 2010 document, you can apply some protection by locking your document. Word offers several levels of protection, all of which you can access in the same way.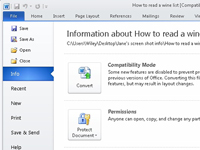 1

From the File tab menu, choose Info.

Click the Protect Document button to open the Protect Document menu.

[img id:193885]
[img id:193886]

You have several choices, including Mark As Final, Encrypt with Password, and Restrict Editing.
2

Choose an option.

If you choose Mark As Final, the document is flagged as final, which means that editing is disabled. Still, you can easily override it by clicking the Edit Anyway button that appears. Encrypt with Password makes Word encrypt the document and add a password. To open the document in Word, you must enter the password. You can't remove a password after it's applied. If you choose Restrict Editing, you can limit whether a user can edit a document or whether all changes are tracked or restrict that person to make only comments.
3

Answer the questions in the dialog boxes that appear.

The dialog boxes vary, depending on which option you chose in Step 3. Click OK.

The document protection you've chosen is applied.